Upaya Edukasi Kader Kesehatan dan Ibu Hamil untuk Peningkatan Cakupan Imunisasi Dasar Lengkap di Kecamatan Pamotan Kabupaten Rembang
Nurhasmadiar Nandini

Universitas Diponegoro
Keywords:
Basic Complete Immunisation, Health Cadres, Pregnant Woman, Education
Abstract
Immunisation is one of the health programs which considered cost-effective and able to prevent millions of deaths and disability which caused by diseases which could be prevented by immunisation. For the past years, the coverage of Basic Complete Immunisation has been increasing in several areas in Central Java. However, there were still some community groups that believed immunisation was harmful for their children and they did not allow their children to be vaccinated. This condition could cause a new case of diseases which usually can be prevented by immunisation, such as Polio, Diphtheria, Tetanus, Hepatitis, and many more. Therefore, this program held to refresh the cadres knowledge about immunisation also provide more knowledge for pregnant mother about immunisation so they agree to let their children vaccinated after they born until they complete the basic immunisation. This community service heldin January – February 2020 in Sendangagung Village, Pamotan, Rembang District. The participants were health cadres and pregnant woman in Sendangagung Village, Pamotan, Rembang District. This event started with a mini pre-test, explanation about immunisation, and discussion. Participants stated that this event increase and refresh their knowledge about immunisation. Moreover, participants also get a booklet about the immunisation so the health cadres might use this booklet as their education media to educate other pregnant women and toddler's parents about immunisation.
Downloads
Download data is not yet available.
References
Dinas Kesehatan Provinsi Jawa Tengah (2020) Profil Kesehatan Provinsi Jawa Tengah Tahun 2019. Semarang: Dinas Kesehatan Provinsi Jawa Tengah.
Hadinegoro, S. R. S. (2000) 'Kejadian Ikutan Pasca Imunisasi', Sari Pediatri, 2(1), pp. 2–10.
Maidartati and Yuniarti, I. Y. (2020) 'Hubungan Pengetahuan dengan Perilaku Pemberian Imunisasi Dasar di Puskesmas Kabupaten Bandung', Jurnal Keperawatan BSI, VIII(1), pp. 114–121. Available at: http://ejurnal.ars.ac.id/index.php/keperawatan/article/download/248/197.
Rachmawati, C. O., Masruroh and Kristiningrum, W. (2020) 'Gambaran Pengetahuan Ibu Tentang Pembarian Imunisasi Dasar Pada Bayi Usia 0-12 Bulan di Desa Lambangan Wetan Kecamatan Bulu Kabupaten Rembang', Jurnal Gizi dan Kesehatan, 7(13), pp. 22–29. Available at: http://jurnalgizi.unw.ac.id/index.php/JGK/article/view/89.
Rahmawati, L. and Ningsih, M. P. (2020) 'Hubungan Tingkat Pengetahuan dan Sikap Tentang Kejadian Ikutan Pasca Imunisasi Dengan Kepatuhan Ibu dalam Memberikan Imunisasi DPT-HB-HIB di Wilayah Kerja Puskesmas Lubuk Buaya Kota Padang', Medikes, 7(1), pp. 209–220.
Rizal, A. and Jalpi, A. (2020) 'ANALISIS KELENGKAPAN IMUNISASI DASAR DI WILAYAH KERJA PUSKESMAS LEMO KABUPATEN BARITO UTARA', AL ULUM JURNAL SAINS DAN TEKNOLOGI, 5(2), pp. 64–67. doi: 10.31602/ajst.v5i2.2876.
Safitri, S. D. and Sri Sadewo, F. X. (2019) 'IMUNISASI ANAK PADA MASYARAKAT PEDESAAN', Paradigma, 7(2).
Wibowo, C. A. et al. (2020) 'PENGETAHUAN DAN SIKAP IBU TENTANG IMUNISASI DASAR PADA BALITA', Jurnal Farmasi Komunitas, 7(1), pp. 17–22. doi: 10.20473/jfk.v7i1.21659.
World Health Organization (2017) Immunization in the South-East Asia. Available at: https://www.who.int/southeastasia/health-topics/immunization (Accessed: 5 January 2021).
World Health Organization (2021) World Immunization Week 2021. Available at: https://www.who.int/news-room/events/detail/2021/04/24/default-calendar/world-immunization-week-2021 (Accessed: 26 January 2021).
Wulandari, D. and Dwidiyanti, M. (2017) 'Pengetahuan dan Persepsi Ibu yang Menolak Pemberian Imunisasi Dasar Balita', IJMS - Indonesian Journal on Medical Science, 4(1), pp. 44–55.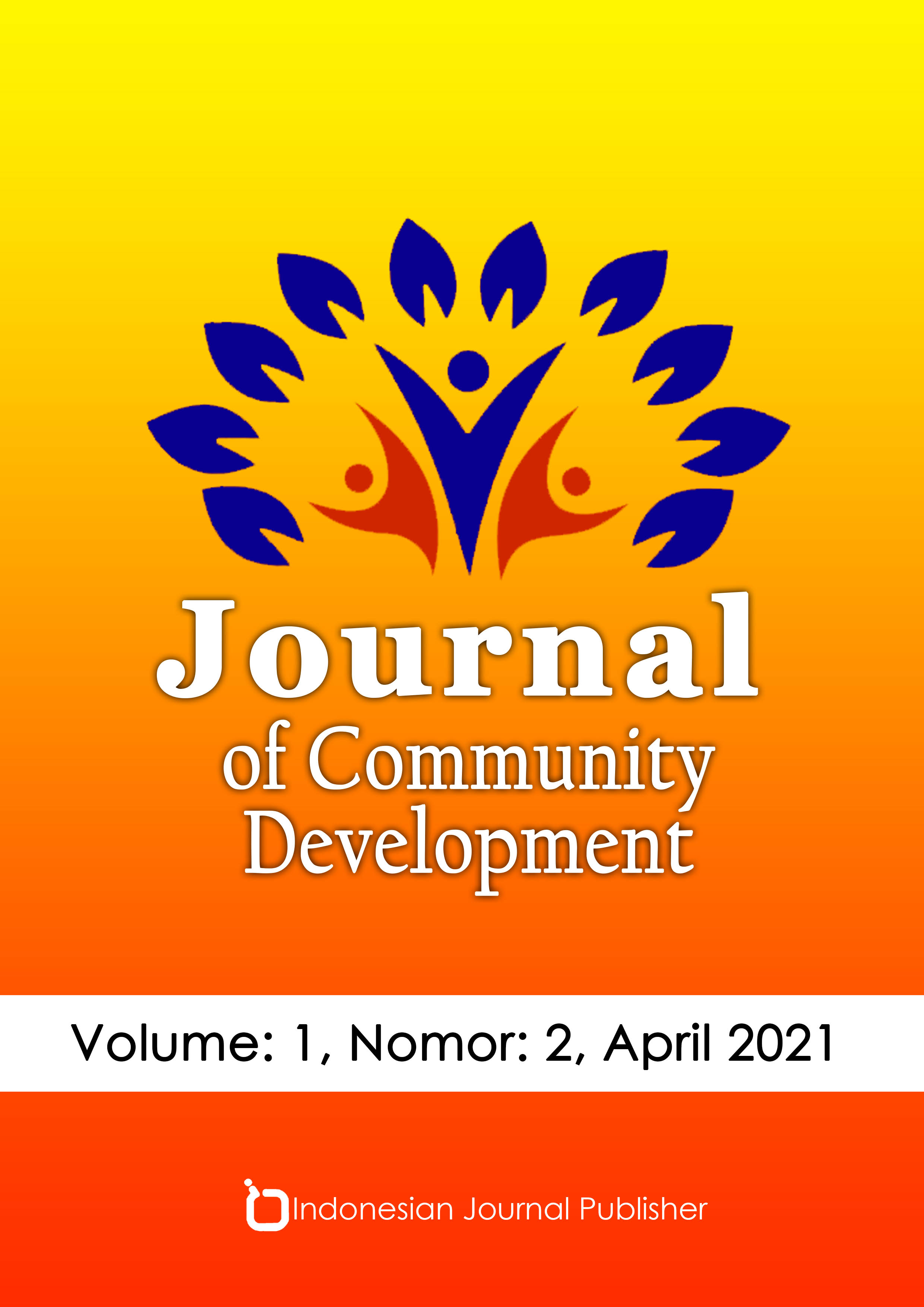 How to Cite
Nandini, N. (2021). Upaya Edukasi Kader Kesehatan dan Ibu Hamil untuk Peningkatan Cakupan Imunisasi Dasar Lengkap di Kecamatan Pamotan Kabupaten Rembang . Journal of Community Development, 1(2), 66-70. https://doi.org/10.47134/comdev.v1i2.11
Copyright (c) 2021 Nurhasmadiar Nandini
This work is licensed under a Creative Commons Attribution 4.0 International License.