Pelatihan Videografi Balai Latihan Kerja Al Ittihad dengan Model Project Based Learning
Soetam Rizky Wicaksono

Universitas Ma Chung

Didit Prasetyo Nugroho

Universitas Ma Cung
Keywords:
Videography, Al Ittihad, Ma Chung University, Project Based Learning
Abstract
The pandemic outbreak has had an impact on the field of employment in general, so the Al Ittihad BLK (Balai Latihan Kerja or Work Training Centre) is trying to improve the digital skills of the learning participants to be more competitive during and after the pandemic. BLK, whose participants are the majority of alumni from the Al Ittihad Islamic boarding school, is expected to get additional ability to increase competitiveness in the world of work. The Ma Chung University community service team, which had discussed in a brainstorming session with the BLK managers, then agreed to provide videography training with the PBL (Project Based Learning) model with the assumption that the model was better able to increase the enthusiasm for learning and optimize the creative potential of the participants. The training, which was carried out offline for a limited time in the Poncokusumo area, Malang Regency, was proven to be able to improve the skills of the participants in learning and more visible learning outcomes based on the video project made by the participants. So it can be concluded that the implementation of the PBL model in this training process can be more effective in the limited training period.
Downloads
Download data is not yet available.
References
Agung, A. S. N. and Surtikanti, M. W. (2020) 'Students' Perception of Online Learning during COVID-19 Pandemic: A Case Study on the English Students of STKIP Pamane Talino', SOSHUM : Jurnal Sosial dan Humaniora, 10(2), pp. 225–235. doi: 10.31940/soshum.v10i2.1316.
Febrianto, P. T., Mas'udah, S. and Megasari, L. A. (2020) 'Implementation of online learning during the covid-19 pandemic on Madura Island, Indonesia', International Journal of Learning, Teaching and Educational Research, 19(8), pp. 233–254. doi: 10.26803/ijlter.19.8.13.
Gusdwisari, B. (2020) 'Digital Skill Education Concept, Upaya Peningkatan Kualitas Generasi Muda dan Mengurangi Tingkat Pengangguran Menuju SDGs 2030', in Prosiding Seminar Nasional Pendidikan Program Pascasarjana Universitas Pgri Palembang, pp. 216–223.
Hamid, A. A. et al. (2020) 'MEMPERSIAPKAN GENERASI MUDA YANG KREATIF DAN INOVATIF DALAM MENGHADAPI INDUSTRI 4.0 DI RUMAH GEMILANG INDONESIA (RGI) DEPOK', Jurnal Abdimas Tridharma Manajemen, 1(2), pp. 56–66.
Indrawan, E. and Jalinus, Nizwardi, S. (2018) 'Review Project Based Learning', International Journal of Science and Research, 8(4), pp. 1014–1018. Available at: www.ijsr.net.
Isabekov, A. and Sadyrova, G. (2018) 'Project-Based Learning to Develop Creative Abilities in Students', in Vocational Teacher Education in Central Asia. Springer. doi: 10.1007/978-3-319-73093-6_4.
Kricsfalusy, V., George, C. and Reed, M. G. (2018) 'Integrating problem- and project-based learning opportunities: assessing outcomes of a field course in environment and sustainability', Environmental Education Research, 24(4), pp. 593–610. doi: 10.1080/13504622.2016.1269874.
LIPI (2020) Survei Dampak Darurat Virus Corona terhadap Tenaga Kerja Indonesia. Jakarta. Available at: http://lipi.go.id/berita/single/Survei-Dampak-Darurat-Virus-Corona-terhadap-Tenaga-Kerja-Indonesia/22030.
Mahasneh, A. M. and Alwan, A. F. (2018) 'The effect of project-based learning on student teacher self-efficacy and achievement', International Journal of Instruction, 11(3), pp. 511–524. doi: 10.12973/iji.2018.11335a.
Mulyana, M. Y., Pratama, M. A. and Ismail, M. S. (2020) 'Peran Sumber Daya Manusia (Sdm) / Generasi Muda Dalam Menyongsong Revolusi Industri 4.0', Prismakom, 16(1), pp. 36–46.
Novitasari, N. (2020) 'Pemberdayaan Masyarakat Sebagai Upaya Menciptakan Generasi Muda Berdaya Literasi Pada Kampung Sinau Kota Malang', Jurnal Akrab, 11(2), pp. 30–41. doi: 10.51495/jurnalakrab.v11i02.348.
Sasson, I., Yehuda, I. and Malkinson, N. (2018) 'Fostering the skills of critical thinking and question-posing in a project-based learning environment', Thinking Skills and Creativity, 29, pp. 203–212. doi: 10.1016/j.tsc.2018.08.001.
Violetta, P. T. (2021) Dampak pandemi COVID-19 luar biasa, 29,12 juta pekerja terdampak, AntaraNews. Available at: https://www.antaranews.com/berita/1992784/dampak-pandemi-covid-19-luar-biasa-2912-juta-pekerja-terdampak (Accessed: 27 February 2021).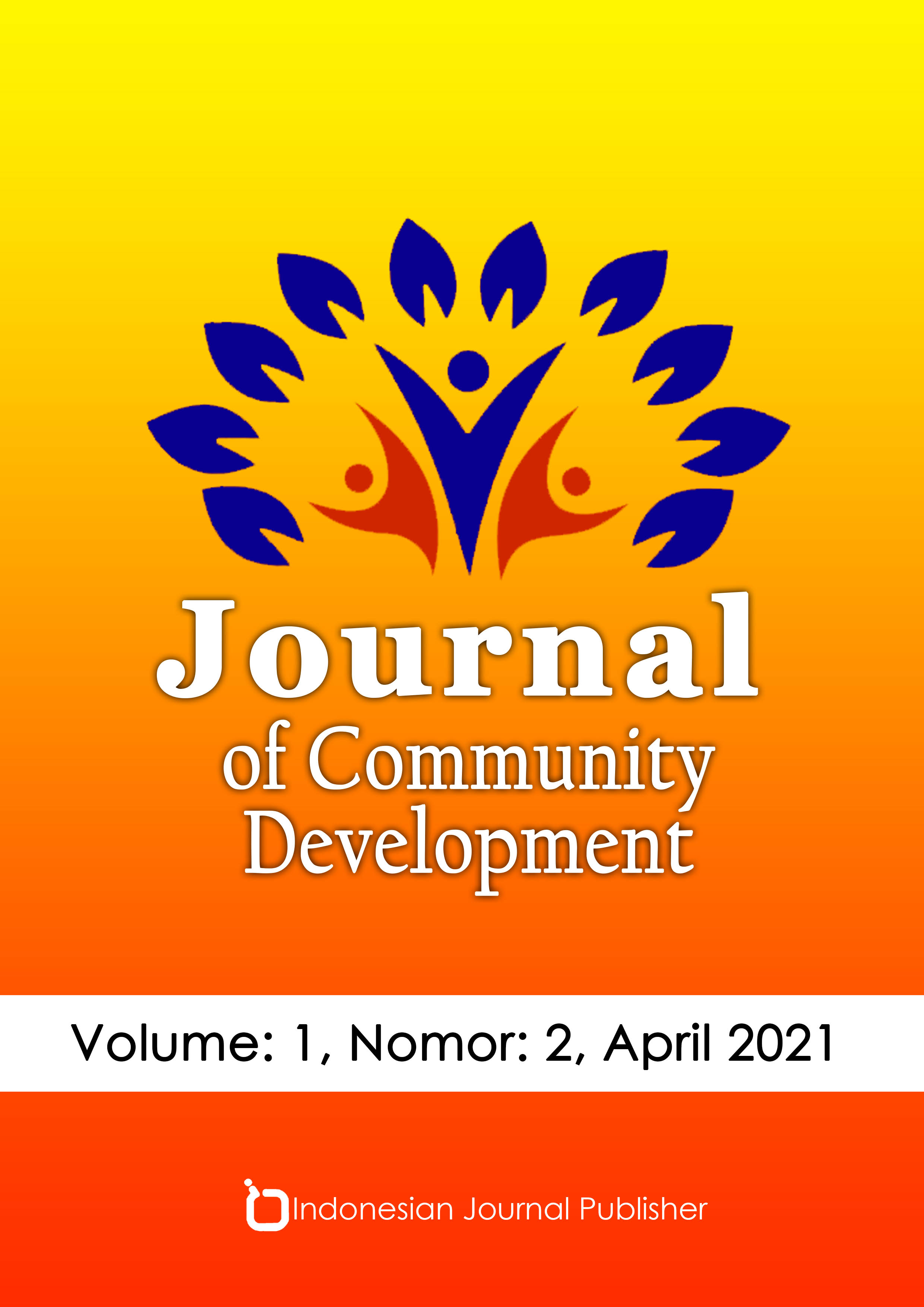 How to Cite
Wicaksono, S. R., & Nugroho, D. P. (2021). Pelatihan Videografi Balai Latihan Kerja Al Ittihad dengan Model Project Based Learning. Journal of Community Development, 1(2), 95-99. https://doi.org/10.47134/comdev.v1i2.23
Comdev Journal provides open access to anyone so that the information and findings in these articles are useful for everyone. This journal's article content can be accessed and downloaded for free, free of charge, following the creative commons license used.

Journal of Community Development is licensed under a Creative Commons Attribution- 4.0 International Public License (CC - BY 4.0).