Optimalisasi Pemanfaatan Daun Kelor Sebagai Produk Olahan Bernilai Gizi dan Bernilai Ekonomi Tinggi
Keywords:
moringa oleifera, nutritional value, economic value
Abstract
Moringa oleifera is the one of familiar plants in Harjomulyo Village. The one factor of the number moringa plants in Harjomulyo Village because it's too easy to grow in tropical climates, have high rainfall and are resistant to dry seasons. The problem of Harjomulyo Village is a lack of knowledge related to nutritional value and high economic value related to moringa plants which are widely available in Harjomulyo Village. The aim of this service is to educate the Moringa plant into processed nutritious food that has high economic value for the people of Harjomulyo Village. In solving the problem, it is carried out by extension methods and discussions about the benefits of moringa plants for health and fulfillment nutrition for family, technical counseling on the process of moringa sticks, packaging of moringa sticks, and business and marketing analysis of moringa sticks.
Downloads
Download data is not yet available.
References
Irwan, Z. (2020). Kandungan Zat Gizi Daun Kelor (Moringa Oleifera) Berdasarkan Metode Pengeringan. Jurnal Kesehatan Manarang, 6(1), 69–77.
Lestari, Ayu Fitri, dan Intan Puspita Sari. (2018). Kelor Sebagai Upaya Pemberdayaan Untuk Meningkatkan Produktivitas Ibu Rumah Tangga. Jurnal Kesmas Untika Luwuk. Vol. 9 (2): 1429-1444.
Maharani, A., & Sumowo, S. (2019). Inovasi Kue Batik Jember Sebagai Upaya Pengembangan Industri Ekonomi Kreatif Berbasis Kearifan Lokal Jember. CARADDE: Jurnal Pengabdian Kepada Masyarakat, 2(2), 193–202. https://doi.org/10.31960/caradde.v2i2.312
Tahir, M., Hikmah, N., & Rahmawati, R. (2016). ANALISIS KANDUNGAN VITAMIN C DAN ?- KAROTEN DALAM DAUN KELOR (Moringa oleifra Lam.) DENGAN METODE SPEKTROFOTOMETRI UV–VIS. Jurnal Fitofarmaka Indonesia, 3(1), 135–140. https://doi.org/10.33096/jffi.v3i1.173
Wira'artha, I.C., Negoro, N.P. dan Prasetyo E.N. (2017). Analisis Pengambilan Keputusan dan Strategi Pemasaran di Tingkat Kebutuhan Kelor Indonesia (Kasus Agribisnis: Kelor Madura). Jurnal Sains dan Seni ITS. Vol. 6 (2): D293-D296.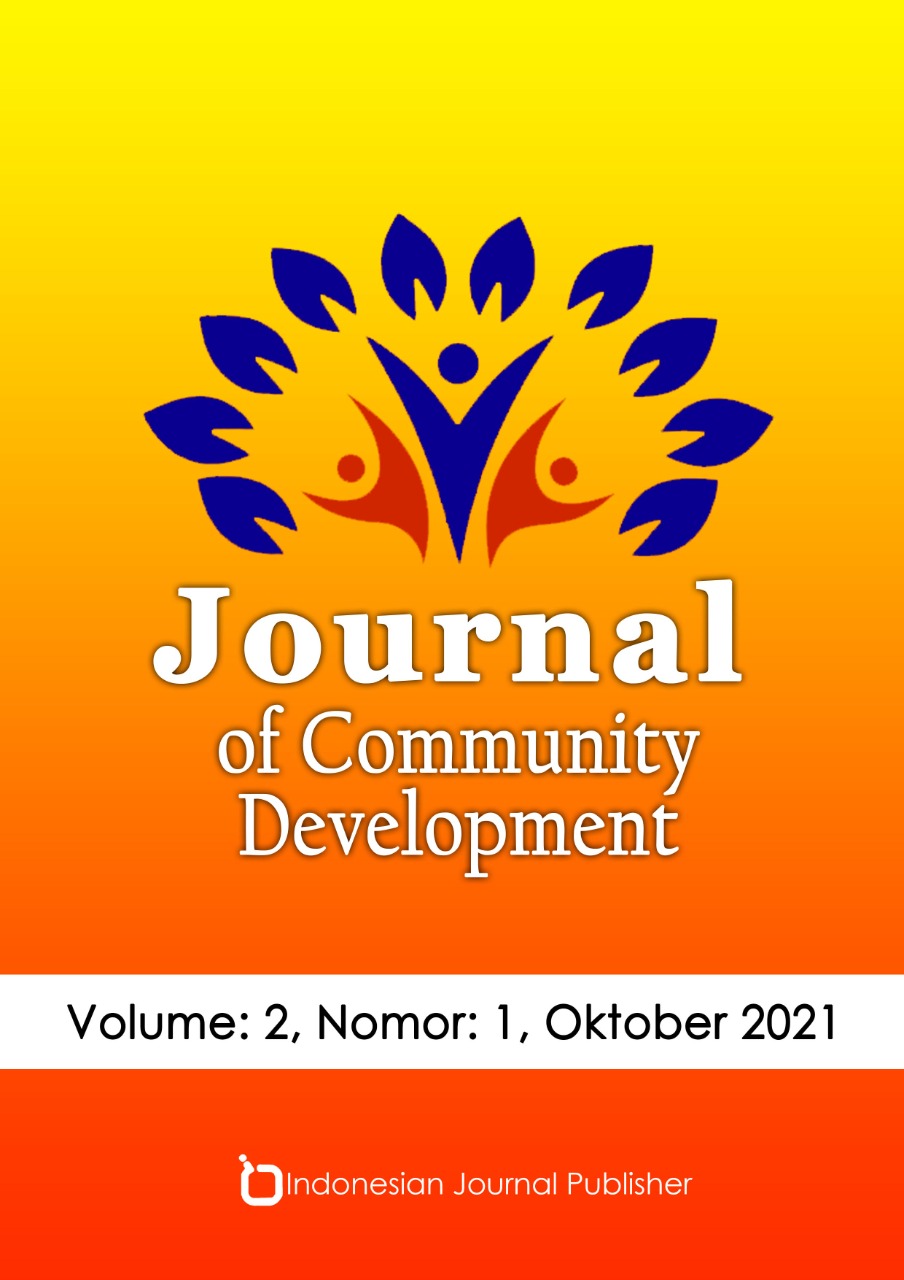 Downloads
How to Cite
Maharani, A., & Murwanti, R. (2021). Optimalisasi Pemanfaatan Daun Kelor Sebagai Produk Olahan Bernilai Gizi dan Bernilai Ekonomi Tinggi. Journal of Community Development, 2(1), 38–42. https://doi.org/10.47134/comdev.v2i1.34
Section
Seminars and Conferences