Pelatihan Pembuatan Video Ajar Pada Guru MIN 1 Klaten
Keywords:
MIN 1 Klaten, Video, OBS
Abstract
Since the COVID-19 pandemic has occurred throughout the world, all activities and activities have been disrupted, including educational activities. All educational activities that were initially carried out offline must be online or online to control the spread of COVID-19. One way to facilitate teaching and learning activities and delivery of material to students needs an easy and exciting way for students and teachers. Teachers are required to immediately adapt to technology so that the educational process in schools is not disrupted. One of the efforts to upgrade skills is to hold training to develop exciting learning videos that can be tracked at any time, wherever they are. Open Broadcast Software or OBS is one of the open-source tools that can be used to make learning videos easily and not connected to the internet. So that it is more efficient and does not incur additional costs when building, all teachers held this training at MIN 1 Klaten; the participants were very enthusiastic. In general, this training aims to improve the quality and ability in information technology in teaching and learning activities for teachers at MIN 1 Klaten in the 5.0 era. This community service activity is by direct delivery of material or material oration and implementation. At the end of the activity, an evaluation was held in the form of a questionnaire to measure the success of the absorption of the material presented. The activity evaluation results showed that it was satisfactory for all activity participants, easy to understand the material presented and easy to use.
Downloads
Download data is not yet available.
References
Bandyopadhyay, S. K. and Dutta, S. (2020) 'Machine learning approach for confirmation of covid-19 cases: Positive, negative, death and release', MedRxiv. doi: 10.1101/2020.03.25.20043505v1.abstract.
Mahnun, N. (2018) 'Implementasi Pembelajaran Online dan Optimalisasi Pengelolaan Pembelajaran Berbasis Online di Perguruan Tinggi Islam dalam Mewujudkan World Class University', Jurnal IJIEM, 1(1), pp. 29–36. Available at: http://ejournal.uin-suska.ac.id/index.php/IJIEM/article/download/5240/3088.
Pujiasih, E. (2020) 'Membangun Generasi Emas Dengan Variasi Pembelajaran Online Di Masa Pandemi Covid-19', Ideguru: Jurnal Karya Ilmiah Guru, 5(1), pp. 42–48. doi: 10.51169/ideguru.v5i1.136.
Raharja, U. et al. (2019) 'Motivasi Belajar Mahasiswa Terhadap Metode Pembelajaran Online iLearning+ Pada Perguruan Tinggi', Sisfotenika, 9(2), p. 192.
Rizana, Dani et al. 2021. "Training on Making Learning Videos Using OBS Studio." journal.unimma.ac.id 6(5): 815–21. http://journal.unimma.ac.id/index.php/ce/article/view/4527 (January 1, 2022). doi: 10.30700/jst.v9i2.497.
Spitzer, L. and Heycke, T. (no date) 'Installation'.
Wahyuni, S. N. and Wibowo, F. W. (2018) 'Internet Usage Pattern in Entrepreneurship-Based XYZ IT Private University', Advanced Science Letters, 24(4), pp. 2651–2654. doi: 10.1166/asl.2018.11026.
PENENTUAN BASE TRANCIVIER SYSTEM (BTS)', Jurnal Mnemonic, 3(1), pp. 7–10. doi: 10.36040/mnemonic.v3i1.2386.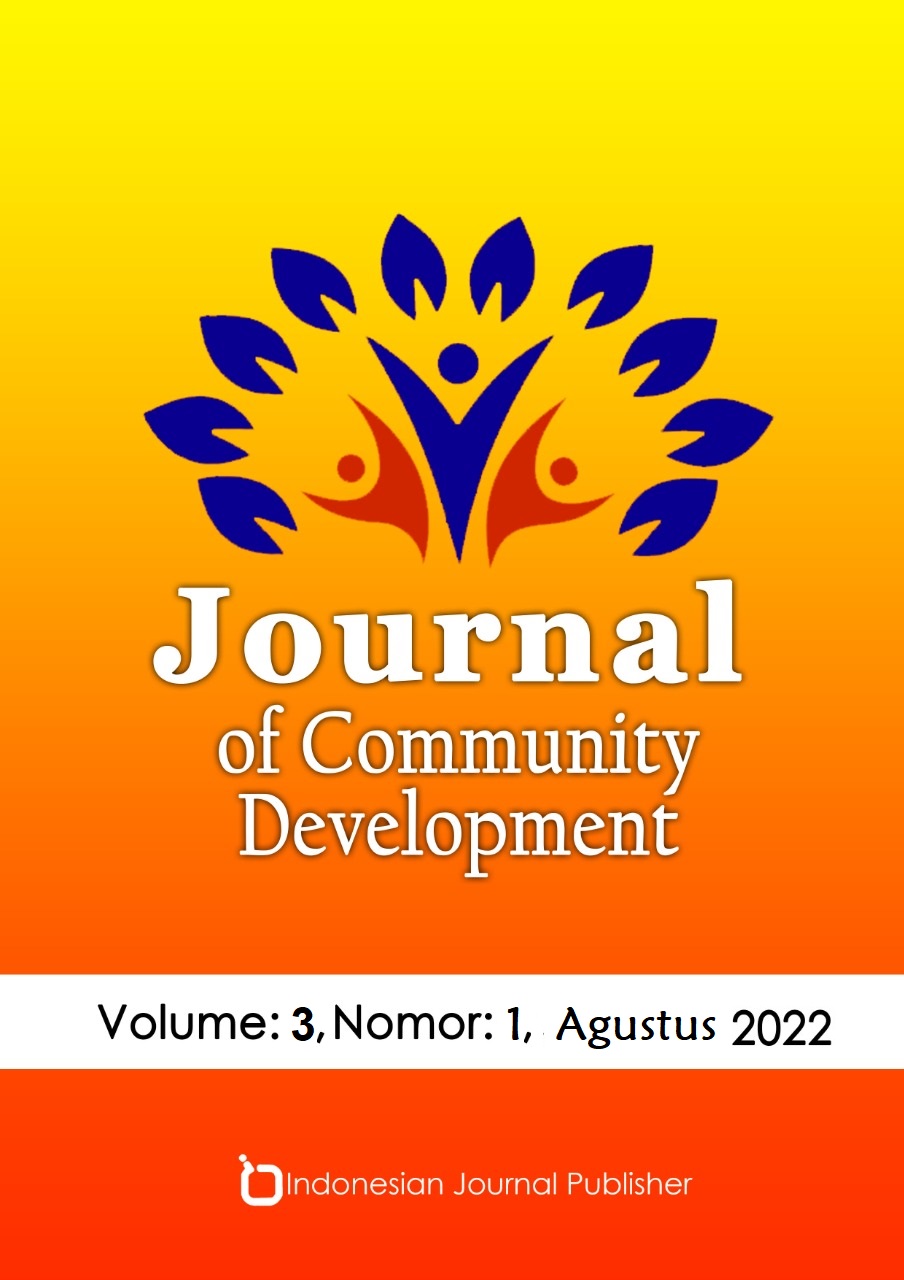 Downloads
How to Cite
Wahyuni, S. N., Maemunah, M., Mulyatun, S., Vijaya, R. J., Istiningsih, I., Purwanto, M. K., Widyawati, R., & Hayati, M. (2022). Pelatihan Pembuatan Video Ajar Pada Guru MIN 1 Klaten. Journal of Community Development, 3(1), 17–23. https://doi.org/10.47134/comdev.v3i1.54