Peningkatan Kemampuan Aparatur Desa Dalam Tata Kelola Pelaporan Keuangan Desa
Junaid Gazalin

Universitas Muhammadiyah Buton

La Asiri

Universitas Muhammadiyah Buton

Mansur Mansur

Universitas Muhammadiyah Buton

Sry Mayunita

Universitas Muhammadiyah Buton

Kastan Kastan

Universitas Muhammadiyah Buton

Rahmat Wiranto

Universitas Muhammadiyah Buton

Jumadil Jumadil

Universitas Muhammadiyah Buton

Ranti Ranti

Universitas Muhammadiyah Buton

Hanafi Hanafi

Universitas Muhammadiyah Buton
Keywords:
Capacity Building, Governance, Village Financial Reporting
Abstract
This community service activity (PKM) aims to increase the understanding and ability of the Sandang Pangan Village apparatus, Sampolawa District, South Buton Regency, in village administration governance as regulated by Permendagri No. 14 of 2016 concerning Guidelines for Village Government Administration and Permendagri No. 20 of 2018 concerning financial management. village. To create regularity in village administration, it is necessary to provide assistance in the preparation of administrative reporting, especially good and correct village financial reporting management. The purpose of community service activities is assistance and guidance to government officials, using the Participatory Learning and Action (PLA) approach or Participatory Learning and Practice Process. PLA is a community empowerment method consisting of a learning process (training, brainstorming, and discussion). The results of this service activity are 1) Village officials have known and understood good and correct village financial reporting management, as evidenced by the results of the training in the form of a draft report document according to the guidelines from the Ministry of Home Affairs regulations. 2) Village administration and village financial reporting so far have not been in accordance with the rules for their preparation, disorganized and irregular that has been carried out by village officials, changed for the better with the creation of a report module that is structured according to village administration. For this reason, efforts to improve the ability of village officials require a scheduled training program so that their competence in preparing report governance will be even better in the future.
Downloads
Download data is not yet available.
References
Arza, F. I., Handayani, D. F. and Honesty, F. F. (2019) "PKM Peningkatan Kemampuan Aparatur Nagari Dalam Mengelola Keuangan Nagari di Kabupaten Padang Pariaman Melalui Pelatihan Pengelolaan Keuangan Desa," 7(2), pp. 1513–1520.
Askal Basir, M. dkk (2020) "TATA KELOLA ADMINISTRASI DESA DALAM PEMANFAATAN SISTEM APLIKASI KOMPUTER," HUMANISM Jurnal PKM, 01(02), pp. 57–63.
BPM.Prov. Aceh (2021) Pemendagri No 47 Tahun 2016 tentang Pedoman Admnistrasi Pemerintahan Desa. Jakarta. Available at: https://bpm.acehprov.go.id/.
Kemendagri, J. (2018) Peraturan Menteri Dalam Negeri Negeri No 20 Tahun 2018 tentang Pengelolaan Keuangan Desa. Jakarta.
Kurnianingrum, F. D. M. (2021) PEDOMAN PENGELOLAAN KEUANGAN DESA TAHUN 2021. Jakarta.
LEVINA KINDANGEN dkk (2020) "TATA KELOLA ADMINISTRASI DESA DALAM PENYELENGGARAAN PEMERINTAHAN DESA MUNDUNG SATU KECAMATAN TOMBATU TIMUR KABUPATEN MINAHASA TENGGARA," E-Jounal Unsrat, 4(51), pp. 3–9. Available at: https://ejournal.unsrat.ac.id/index.php/JAP/article/view/19202.
Mardikanto, T dan Soebiato, P. (2012) Pemberdayaan Masyarakat Dalam Perspektif Kebijakan Publik. 1st ed. Bandung: Alfabeta Press.
Ode Asmanang dkk (2020) "PEMBINAAN ADMINISTRASI DESA DI DESA WAJAJAYA," INTEGRITAS : Jurnal Pengabdian, 01, pp. 87–94.
Paramita, A. and Syachbrani, W. (2021) "Pelatihan Penatabukuan Keuangan Pemerintah di Kabupaten Luwu Utara," 1(2), pp. 1–7.
Ramadhan, A. (2020) Catatan ICW, Kasus Korupsi Dana Desa Terbanyak Muncul pada 2019, https://nasional.kompas.com/. Available at: https://nasional.kompas.com/read/2020/02/18/19084421/catatan-icw-kasus-korupsi-dana-desa-terbanyak-muncul-pada-2019 (Accessed: January 10, 2020).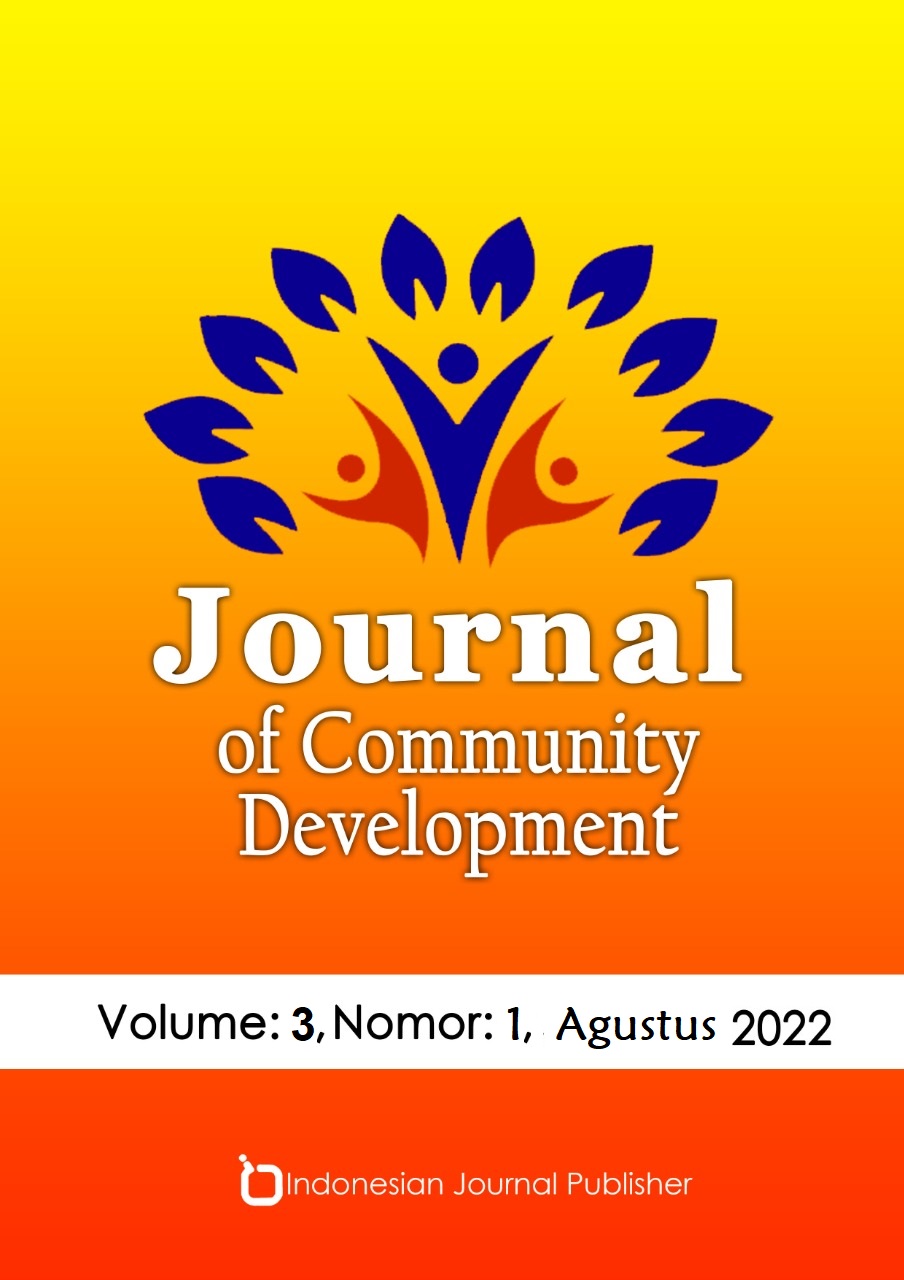 How to Cite
Gazalin, J., Asiri, L., Mansur, M., Mayunita, S., Kastan, K., Wiranto, R., Jumadil, J., Ranti, R., & Hanafi, H. (2022). Peningkatan Kemampuan Aparatur Desa Dalam Tata Kelola Pelaporan Keuangan Desa. Journal of Community Development, 3(1), 24-32. https://doi.org/10.47134/comdev.v3i1.62
Copyright (c) 2022 Junaid Gazalin, La Asiri, Mansur Mansur, Sry Mayunita, Kastan Kastan, Rahmat Wiranto, Jumadil Jumadil, Ranti Ranti, Hanafi Hanafi
This work is licensed under a Creative Commons Attribution 4.0 International License.