Peningkatan Keterampilan Pembuatan Frozen Food Bagi Anggota Dharma Wanita Persatuan Pemerintahan Kabupaten Jember
Rindiani Rindiani

Politeknik Negeri Jember

Galih Purnasari

Politeknik Negeri Jember
Keywords:
frozen food, shrimp, pumpkin
Abstract
Shrimp and pumpkin are local foods in Jember Regency which can be processed into food products such as dumplings and donuts. These products can be processed into frozen food. Frozen food has the opportunity to be a business to improve family welfare. Women also play a role in improving the welfare of their families. Training and demonstrations in making frozen food dumplings from shrimp and donuts from pumpkin were conducted to women who are members of Dharma Wanita Persatuan Jember Regency. All participants were able to make shrimp dumplings and pumpkin donuts well. The next training plan is packaging techniques training using a vacuum sealer, so that participants can pack their homemade products in good packaging, do not leak and have high durability when marketed. Participants also need training on how to market products so that the rproducts can be well absorbed by the market.
Downloads
Download data is not yet available.
References
Amilia, W. (2013) 'Pengembangan Produk Makanan Oleh-oleh Berbasis Potensi Hasil Pertanian Kabupaten Jember', Prosiding Seminar Nasional dan Pameran Produk Agroindustri.
Antara (2016) Potensi Perikanan Tangkap Jember Tergarap 22,5 Persen. Available at: https://jatim.antaranews.com/berita/171773/potensi-perikanan-tangkap-jember-tergarap-225-persen.
DPK (2011) Dinas Perikanan dan Kelautan Kabupaten Jember. Jember dalam Angka. Jember.
Gardjito (2006) Labu Kuning Sumber Karbohidrat Kaya Vitamin A. Yogyakarta: Tridatu Visi Komunika.
Handayani, A. M. et al. (2020) 'Pengembangan Produk Olahan Labu Kuning Bagi Petani Benih Labu Kuning Di Kecamatan Tegalsari, Kabupaten Banyuwangi', J-Dinamika : Jurnal Pengabdian Masyarakat, 5(2), pp. 15–18. doi: 10.25047/j-dinamika.v5i2.2216.
Susanti, S., Rahman, A. Z. and Handoyo, G. (2020) 'Pelatihan Pembuatan Getuk Frozen sebagai Cadangan Pangan Berdaya Simpan Lama di Era Pandemi Covid-19 di Kecamatan Banyumanik , Semarang', Seminar Nasional Pengabdian Kepada Masyarakat UNDIP 2020, pp. 83–86.
UNS (2021) Keamanan Pangan Produk Frozen Food pada Pandemi Covid-19. Available at: https://uns.ac.id/id/uns-opinion/keamanan-pangan-produk-frozen-food-pada-pandemi-covid-19.html.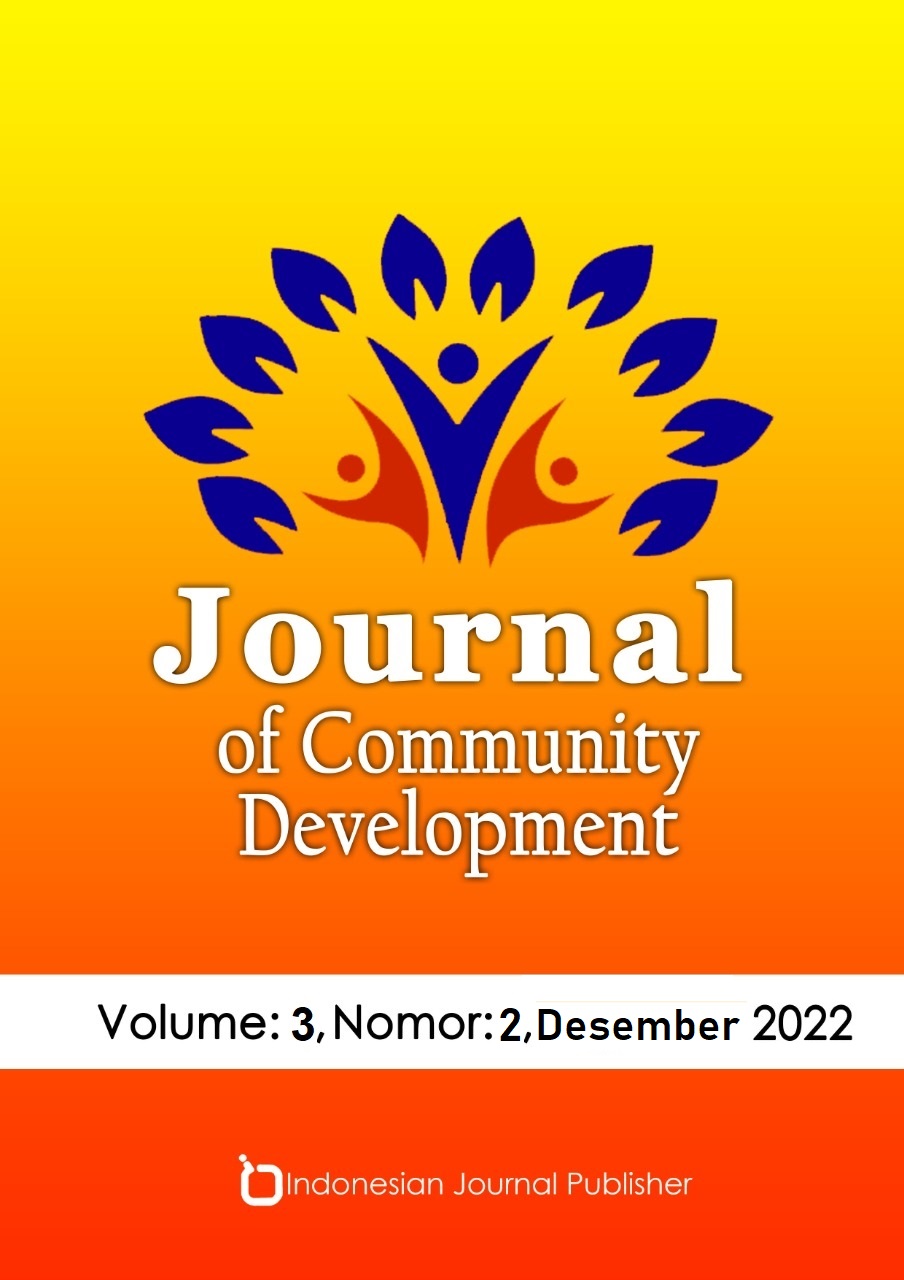 How to Cite
Rindiani, R., & Purnasari, G. (2022). Peningkatan Keterampilan Pembuatan Frozen Food Bagi Anggota Dharma Wanita Persatuan Pemerintahan Kabupaten Jember. Journal of Community Development, 3(2), 89-96. https://doi.org/10.47134/comdev.v3i2.69
Copyright (c) 2022 Rindiani Rindiani, Galih Purnasari
This work is licensed under a Creative Commons Attribution 4.0 International License.