Pendampingan Pengelolaan Stok Barang dan Web Profile Pada PT. Dwi Singatama Putra
Keywords:
stock system, web profile, Instagram
Abstract
PT. Dwi Singatama Putra is a company engaged in the mechanical, electrical and engineering sector, which is located in the village of Sambangan, Buleleng Regency, Bali Province. This company was founded in 2020 which is a change from UD. Triple Engineering and CV. Triple Teknik, which was previously established in 2014. This company has problems, namely: the process of recording goods in warehouses related to certain projects is still not properly recorded and even only based on goods purchase notes so that both consumables and business property are not known. exact amount. In addition, marketing is still carried out door to door to customers so that market coverage is still limited. Considering the problem, the solution that is agreed upon and offered to partners is to provide a web-based stock/warehouse system and a web application that contains information on partner profiles. In addition, partners are also given Instagram social media accounts to help market the services offered. The activities that have been carried out are training and introduction to the use of social media marketing through Instagram, managing company profiles through the website, and using the stock system. Evaluation is carried out by means of direct interviews with partners. The results of the evaluation show that service activities can provide benefits for partners.
Downloads
Download data is not yet available.
References
Hapsawati Taan, Djoko Lesmana Radji, Herlina Rasjid, I. (2021) 'Social Media Marketing Untuk Meningkatkan Brand Image', SEIKO : Journal of Management & Business, Volume 4(Issue 1), pp. 315–330.
Huda, N., Indiya, F. H. and Widyati, R. (2021) 'Rancang Bangun Aplikasi Pendataan Persediaan Barang untuk Proses Stock Opname Menggunakan Barcode Berbasis Android pada Perusahaan Manufaktur', Jurnal Ilmu Komputer dan Aplikasi, 1, pp. 23–32.
Kambali, I. and Masitoh, S. (2021) 'Pengaruh Social Media Marketing Terhadap Keputusan Pembelian Jasa Pengiriman Barang Di Kantor Pos Pati 59100', Jurnal Bisnis dan Pemasaran, Volume 11(1).
Kridoyono, Sudaryanto, A. and Aris (2021) 'Web Company Profile CV. Priyandra Inarya Cipta', Journal of Science and Development, volume 4, pp. 10–21.
Kurniasari, M. and Budiatmo, A. (2018) 'Pengaruh Social Media Marketing, Brand Awareness Terhadap Keputusan Pembelian dengan Minat Beli Sebagai Variabel Intervening pada J.Co Donuts & Coffee Semarang', Jurnal Administrasi Bisnis, Volume 7, pp. 25–31.
Nararya Narottama, N. E. P. M. (2022) 'Pengaruh Social Media Marketing Terhadap Keputusan Pembelian Konsumen Pada Destinasi Wisata Kuliner di Kota Denpasar', JUMPA (Jurnal Master Pariwisata), Volume 8(2), pp. 741–773.
Othysalonika Othysalonika, Abdul Wahib Muhaimin, F. F. (2022) 'Pengaruh Social Media Marketing terhadap Minat dan Keputusan Pembelian Konsumen pada Usaha Makanan Sehat di Kota Malang', Jurnal Ekonomi Pertanian dan Agribisnis (JEPA), Volume 6, pp. 1134–1146.
Purba, M. M. and Rahmat, C. (2021) 'Perancangan Sistem Informasi Stok Barang Berbasis Web Di PT Mahesa Cipta', JSI (Jurnal sistem Informasi) Universitas Suryadarma, 8(2), pp. 123–158.
Ruslan, M. and Setiawan, R. (2015) 'Sistem Informasi Stock Dan Penjualan Di Q'la Computer Berbasis Web', Jurnal Algoritma, 14(2), pp. 164–176. doi: 10.33364/algoritma/v.14-2.164.
Santoso, S., Ilamsyah and Novita, W. (2019) 'Inventory Stock Opname Berbasis Web Pada Pt Makmur Berkat Solusi', 5(2), pp. 165–174.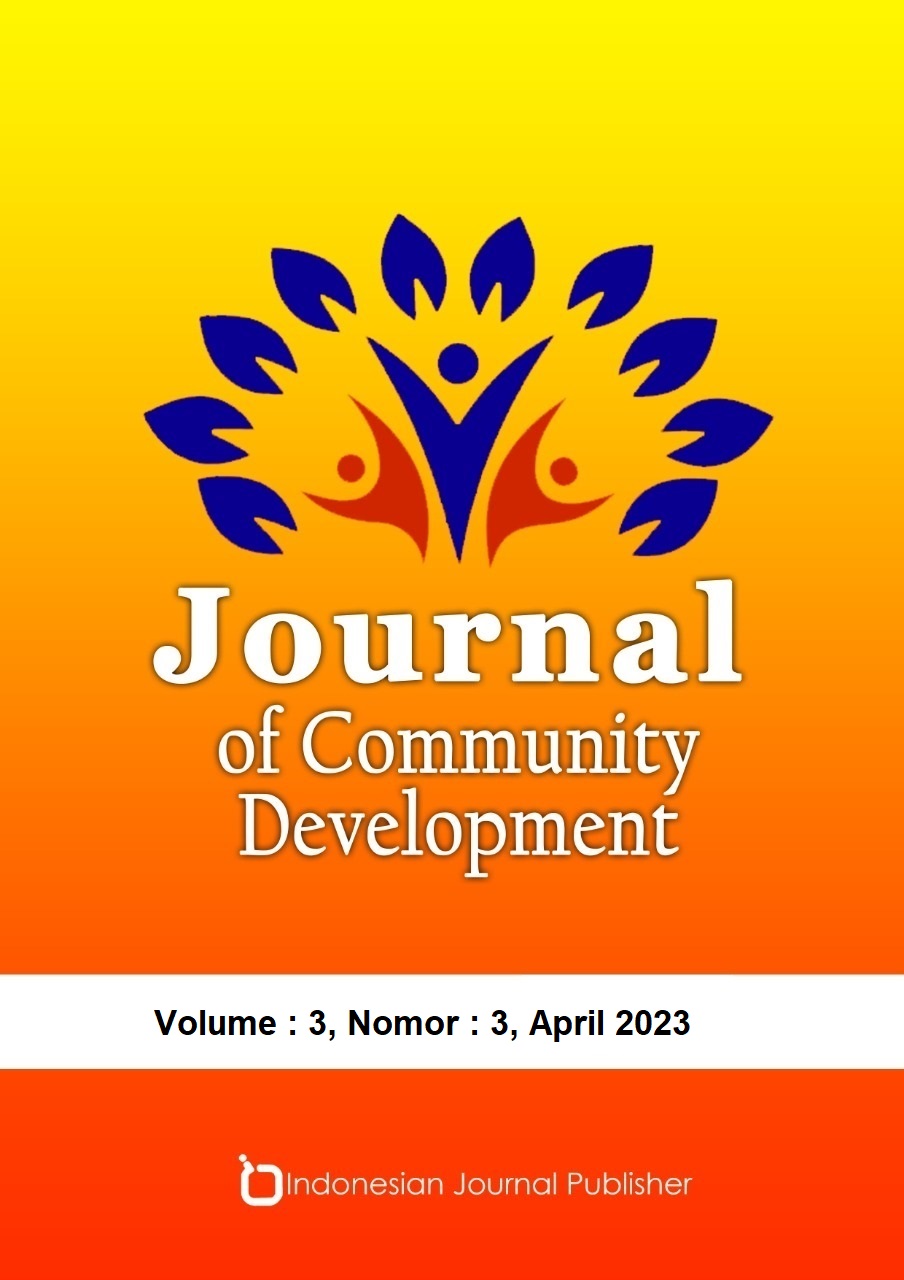 Downloads
How to Cite
Pertama, P. P. G. P., Pradipta, G. A., Liandana, M., & Ayu, P. D. W. (2022). Pendampingan Pengelolaan Stok Barang dan Web Profile Pada PT. Dwi Singatama Putra. Journal of Community Development, 3(3), 285–293. https://doi.org/10.47134/comdev.v3i3.86
License
Copyright (c) 2022 Pande Putu Gede Putra Pertama, Gede Angga Pradipta, Made Liandana, Putu Desiana Wulaning Ayu
This work is licensed under a Creative Commons Attribution 4.0 International License.