Pengembangan dan Pemanfaatan Desain Kemasan sebagai Media Promosi pada UKM Heavenine
I Gusti Ayu Desi Saryanti

Institut Teknologi dan Bisnis STIKOM Bali

Erlinda Mandasari

Institut Teknologi dan Bisnis STIKOM Bali

I Gusti Ayu Putri Indah Sidhiantari

Institut Teknologi dan Bisnis STIKOM Bali
Keywords:
Packaging Design, ukm, Heavenine
Abstract
Heavenine is one of the UKM which is engaged in the craft of making Balinese souvenirs. The products produced at this UKM are various kinds of Balinese souvenirs such as clothes, glass bags, umbrellas that have a characteristic Balinese image. Promotion is the one way to introduce products owned by a company or UKM. At this time, the promotion method carried out at UKM Heavenine is still fairly simple, promotions are carried out only around the region or by participating in exhibitions in one place so that there is a lack of breadth of the promotion network they have make the income is unstable. For this reason, the indicators of achievement in community service will be carried out by developing and utilizing packaging design as a promotional medium with the purpose of further expanding the trade network and increasing income for Heavenine UKM
Downloads
Download data is not yet available.
References
Anggraeni, R. M. (2018). Pemanfaatan Media Sosial Pada Pelatihan Go Online UMKM Se-Kecamatan Patuk, Gunungkidul Daerah Istimewa Yogyakarta.
Amalia, A. (2018). Pelatihan Pemanfaatan Email Dan Google My Business Pada UMKM Kecamatan Patuk Kabupaten Gunungkidul Daerah Istimewa Yogyakarta.
Anwari, E., Meilani, E. & Prasetyowati, O., 2018. Perancangan Grafis Kemasan Makanan Burayot Sebagai Oleh-Oleh Khas Garut. DeKaVe, 10(2), pp.12–24.
Cahyadi, A.B., Sugiono & Efranto, R.Y., 2014. Perumusan Strategi Unggulan Jasa Bus DAMRI Berbasis Analais SWOT dan Quality Function Deployment ( QFD ). Jurnal Rekayasa dan Manajemen Sistem Industri, 2(1), pp.80–91.[5] Hartanto, S., 2015. Perancangan Desain Kemasan Produk Homemade Pie "391" Surabaya. Jurnal DKV Adiwarna, 1(6).
Januhari,Ni Nyoman Utami, Purwantara, I Made Adi,2018. "Pelatihan Penggunaan Internet Sebagai Media Pemasaran Online Pada KWT VCO Tabanan" WIDYABHAKTI JURNAL ILMIAH POPULER V.1(1): November.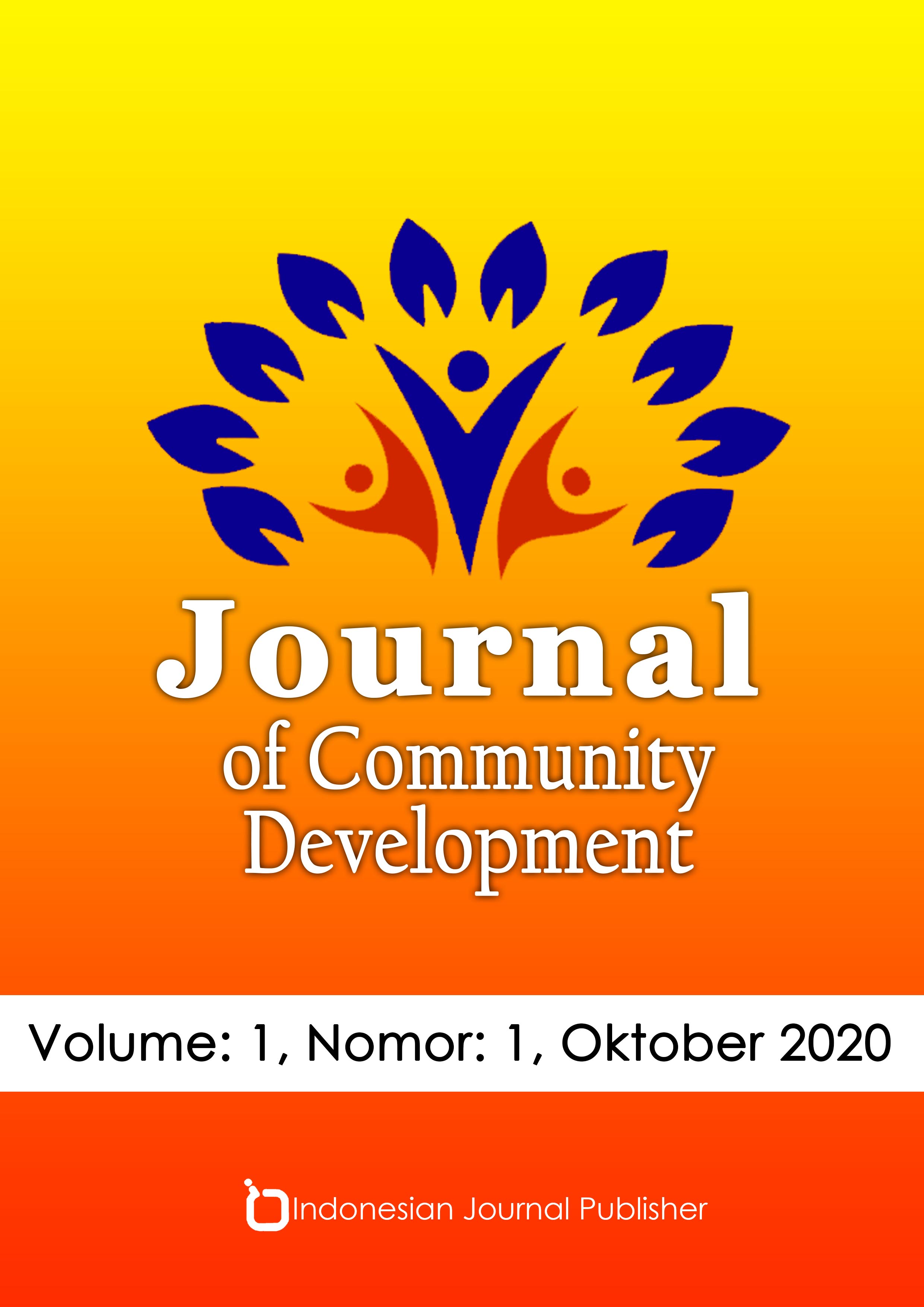 How to Cite
Saryanti, I. G. A. D., Mandasari, E., & Sidhiantari, I. G. A. P. I. (2020). Pengembangan dan Pemanfaatan Desain Kemasan sebagai Media Promosi pada UKM Heavenine . Journal of Community Development, 1(1), 1-6. https://doi.org/10.47134/comdev.v1i1.1
Copyright (c) 2020 I Gusti Ayu Desi Saryanti, Erlinda Mandasari, I Gusti Ayu Putri Indah Sidhiantari
This work is licensed under a Creative Commons Attribution 4.0 International License.