Pemanfaatan Keong Mas Untuk Pupuk Organik Cair di Kelompok Tani Podo Tentrem Kecamatan Wuluhan Jember


Suharjono Suharjono(1*), Sepdian Luri Asmono(2), Rudi Wardana(3),


(1)&nbspPoliteknik Negeri Jember
(2)&nbspPoliteknik Negeri Jember
(3)&nbspPoliteknik Negeri Jember
(*) Corresponding Author
Keywords:
golden snail, liquid organic fertilizer, farmers group
Abstract
The golden snail is one of the pests that damage rice plants, this pest has the ability to reproduce quickly, causing the golden snail to become one of the main pests in lowland rice. But the golden snail can be used as a basic material for liquid organic fertilizer (LOF) because it contains protein, Azotobacter, Azospirillum, phosphate solubilizing microbes, Pseudomonas, Staphylococcus, enzymes and the hormone auxin. The effectiveness of the golden snail LOF has been tested on several agricultural crops, one of which is rice. In the Podo Tentrem Farmers Group, these pests are simply thrown away and have not been utilized properly. Whereas the potential of this golden snail can be very high if it is processed into organic fertilizer. Therefore, with this community service activity, it is hoped that it can improve competence, skills and increase the production output of the Podo Tentrem farmer group. This can be measured by the enthusiasm of the participants who were attended by 100% of the invitees, besides that the participants also knew the stages of work and succeeded in making Keong Mas LOF well. In addition, other assessment indicators are using quantitative data on pre-test and post-test scores. Before the counseling was carried out, the pretest value was 50 and after the knowledge training, it increased with an average post-test score of 76. These results can indicate that in theory and practice, on average, participants understand and can make golden snail LOF.
Downloads
Download data is not yet available.
References
Budiyono, S. (2020) 'Teknik Mengendalikan Keong Mas Pada Tanaman Padi', Jurnal Ilmu-Ilmu Pertanian, 2(2), p. 6.
Lonta, G. et al. (2020) 'Populasi Hama Keong Mas (Pomacea canikulata L.) Dalam Umpan Dan Jebakan Pada Tanaman Padi Sawah (Oryza sativa L.)', in Cocos.
Ngadiani, A., Binawati, D. K. and Andriani, V. (2021) 'Pengaruh Pupuk Organik Cair Keong Mas (Pomacea Canaliculata L.) Dan Paklobutrazol Terhadap Pertumbuhan Padi Mapan P-05', Jurnal Agrotek Tropika, 9(1), pp. 113–120.
Sari, F. (2022) 'Pengaruh Pemberian Pupuk Organik Cair (POC) Keong Mas dan Pupuk TSP Terhadap Pertumbuhan dan Produksi Tanaman Mentimun Jepang (Cucumis Sativus l. Japonese.) Var. Roberto', Jurnal Ilmiah Mahasiswa Pertanian [JIMTANI], 2(4).
Simorangkir, L. (2022) 'Pengaruh Pemberian Sumber Bahan Nabati dan Kimia untuk mengendalikan Hama Keong Mas (Pomacea canaliculata L.) Pada Tanaman Padi Sawah'.
Suharto, H. and Kurniawati, N. (2009) 'Keong mas dari hewan peliharaan menjadi hama utama padi sawah', Balai Besar Penelitian Tanaman Padi. Jawa Barat, hlm, pp. 389–391.
Sulistiyono (2012) Cara Aman Mengendalikan Keong Emas., Fakultas Perikanan dan Ilmu Kelautan Institut Pertanian Bogor.
Suranta, R. (2021) 'Perbandingan Media Tanam Dan POC Keong Mas Terhadap Pertumbuhan Dan Produksi Tanaman Terong Putih (Solanum melongena L.)', Kumpulan Karya Ilmiah Mahasiswa Fakultas sains dan Tekhnologi, 1(1), p. 152.
Suyadi (2010) Pebuatan Pupuk Organik Cair Keong Mas. Bogor.
Wiresyamsi, A. and Haryanto, H. (2017) 'Pengendalian hama keong mas (Pomacea analiculata L.) dengan teknik perangkap dan jebakan', CROP AGRO, Jurnal Ilmiah Budidaya, 1(2), pp. 137–143.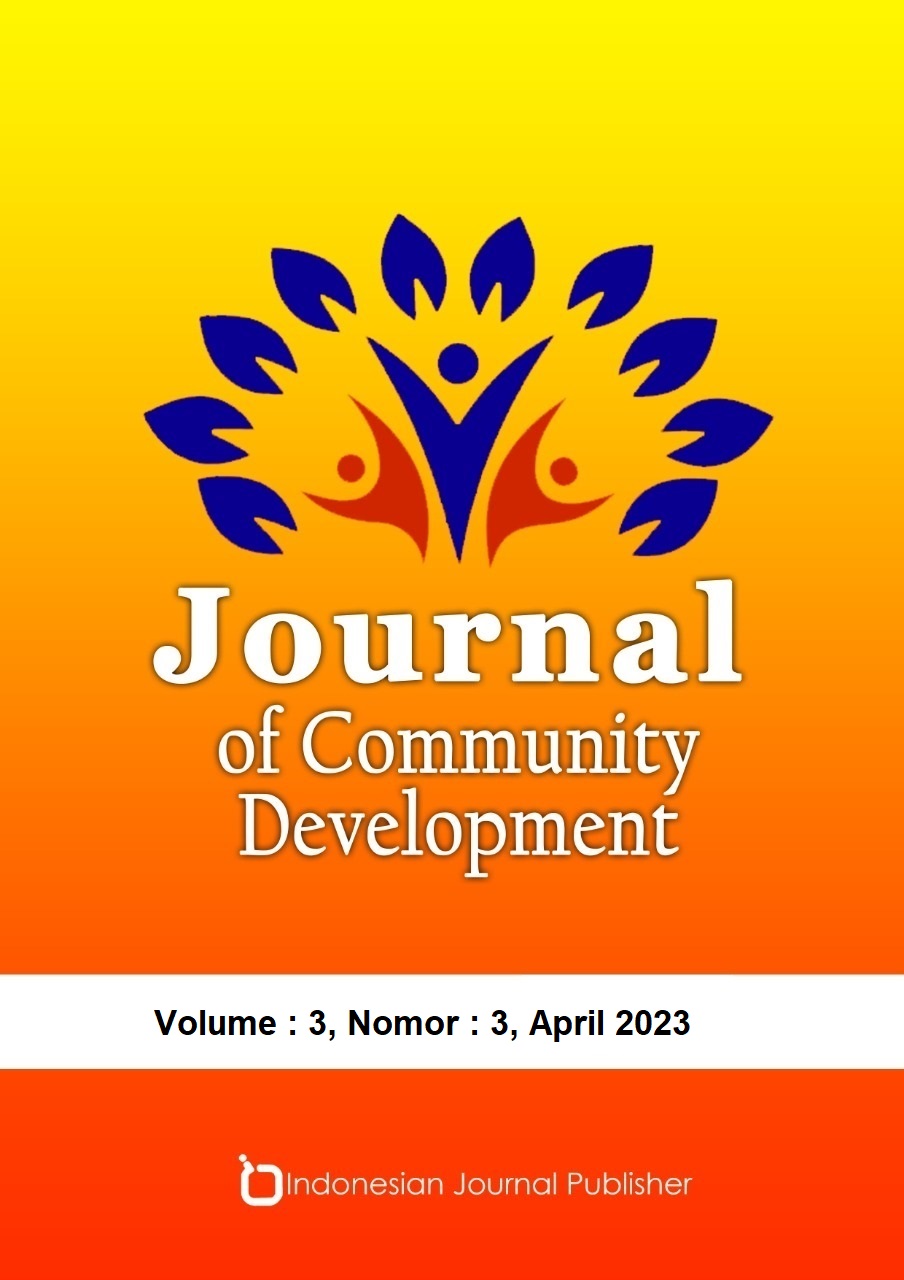 Downloads
How to Cite
Suharjono, S., Asmono, S. L., & Wardana, R. (2022). Pemanfaatan Keong Mas Untuk Pupuk Organik Cair di Kelompok Tani Podo Tentrem Kecamatan Wuluhan Jember. Journal of Community Development, 3(3), 272–278. https://doi.org/10.47134/comdev.v3i3.108
License
Copyright (c) 2022 Suharjono Suharjono, Sepdian Luri Asmono, Rudi Wardana
This work is licensed under a Creative Commons Attribution 4.0 International License.