Peningkatan Kualitas Desain Kemasan dan Pengelolaan Data Usaha Pada Industri Rumah Tangga Kenko
I Gusti Ngurah Wikranta Arsa

ITB STIKOM BALI

I Made Bhaskara Gautama

ITB STIKOM BALI

I Made Mika Parwita

ITB STIKOM BALI

Putu Ricky Teddy Septian

ITB STIKOM Bali

I Made Arya Budhi Saputra

ITB STIKOM BALI
Keywords:
eco-friendly packaging, administration, technology
Abstract
Kenkō is a home industry that produces organic almond milk. This business carries the theme of a healthy lifestyle and has a vision to participate in preserving the environment and nature. However, Kenkō still uses single-use plastic packaging to package its products. This is considered contradictory by its customers. In addition, business administration data which includes recording of production costs, turnover, sales transactions, and financial reports are still using notebooks. Therefore, this business has difficulty in making financial statements. This activity seeks and implements solutions to the partner's problems. The methods used in this activity include, among others, socialization, focus group discussions, providing packaging assistance and business management training. The packaging was replaced with glass bottles because it was considered more suitable for reuse and safe from harmful chemicals such as BPA. This activity also provides training on business administration data management using technology, namely MS Excel because it is considered capable of making financial reports easier. The results of this activity include the creation of new packaging in the form of BPA-free glass bottles and a new label design for the Kenkō home industry as well as the implementation of MS. Excel training activities to assist and simplify business administration management, as well as indirectly support the healthy lifestyle movement. and participate in preserving the environment and the natural surroundings. The follow-up activity planned for this partner is digital marketing and bringing their products to a digital platform, namely e-commerce.
Downloads
Download data is not yet available.
References
Ditlevsen, K., Sandøe, P. and Lassen, J. (2019) 'Healthy food is nutritious, but organic food is healthy because it is pure: The negotiation of healthy food choices by Danish consumers of organic food', Food Quality and Preference, 71, pp. 46–53. doi: 10.1016/j.foodqual.2018.06.001.
Hariani, P. P. and Sihotang, I. M. (2020) 'Excel Mempermudah Penyusunan Laporan Keuangan', Jurnal Prodikmas, 4(2), pp. 50–58. doi: 10.30596%2Fjp.v4i2.6321.
Honeycutt, J. A. et al. (2017) 'Effects of Water Bottle Materials and Filtration on Bisphenol A Content in Laboratory Animal Drinking Water', Journal of the American Association for Laboratory Animal Science : JAALAS, 56(3), pp. 269–272.
Margono, S. (2018) 'Upaya Meningkatkan Daya Tarik Produk Makanan Dan Minuman Oleh-Oleh Di Tempat Destinasi Wisata Melalui Kajian Tanda Pada Desain Kemasan', Widyakala: Journal of Pembangunan Jaya University, 5(1), pp. 66–76. doi: 10.36262/widyakala.v5i1.102.
Mulya, W., Maslina, M. and Marlina, M. (2020) 'Sosialisasi dan Penerapan Pemilahan Sampah Berdasarkan Karakteristik', Abdimas Universal, 2(2), pp. 100–105. doi: 10.36277/abdimasuniversal.v2i2.78.
Paramita, N. and Ningrum, S. S. (2020) 'Pengelolaan Lingkungan Sungai Berdasarkan Sumber Pencemaranan di Sungai Citarum Studi Kasus Kelurahan Tanjung Mekar', JUARA: Jurnal Wahana Abdimas Sejahtera, 1(1), pp. 38–51. doi: 10.25105/juara.v1i1.5912.
Parpart-Li, S. et al. (2017) 'The Effect of Preservative and Temperature on the Analysis of Circulating Tumor DNA', Clinical cancer research : an official journal of the American Association for Cancer Research, 23(10), pp. 2471–2477. doi: 10.1158/1078-0432.CCR-16-1691.
Purbosari, P. P. et al. (2021) 'Peningkatan Kesadaran Lingkungan dan Kesehatan Masyarakat Desa Somongari melalui Edukasi Dampak Pupuk dan Pestisida Anorganik', Agrokreatif Jurnal Ilmiah Pengabdian Kepada Masyarakat, 7(2), pp. 131–137. doi: 10.29244/agrokreatif.7.2.131-137.
Rahmi, N. and Selvi, S. (2021) 'Pemungutan Cukai Plastik Sebagai Upaya Pengurangan Sampah Plastik', Jurnal Pajak Vokasi (JUPASI), 2(2), pp. 66–69. doi: 10.31334/jupasi.v2i2.1430.
Sani, A. A. (2017) 'Pengaruh Teknologi Ramah Lingkungan dan Kualitas Pelayanan Terhadap Keunggulan Kompetitif dan Kinerja Perusahaan', E-Jurnal Manajemen, 6(7), pp. 3485–3512.
Yudha, A., Marlina, T. and Fahmi, A. (2017) 'Pelatihan Membuat Laporan Keuangan Dengan Microsoft Excel BUMDes Pagelaran', Jurnal Abdimas, 1(1), pp. 9–12.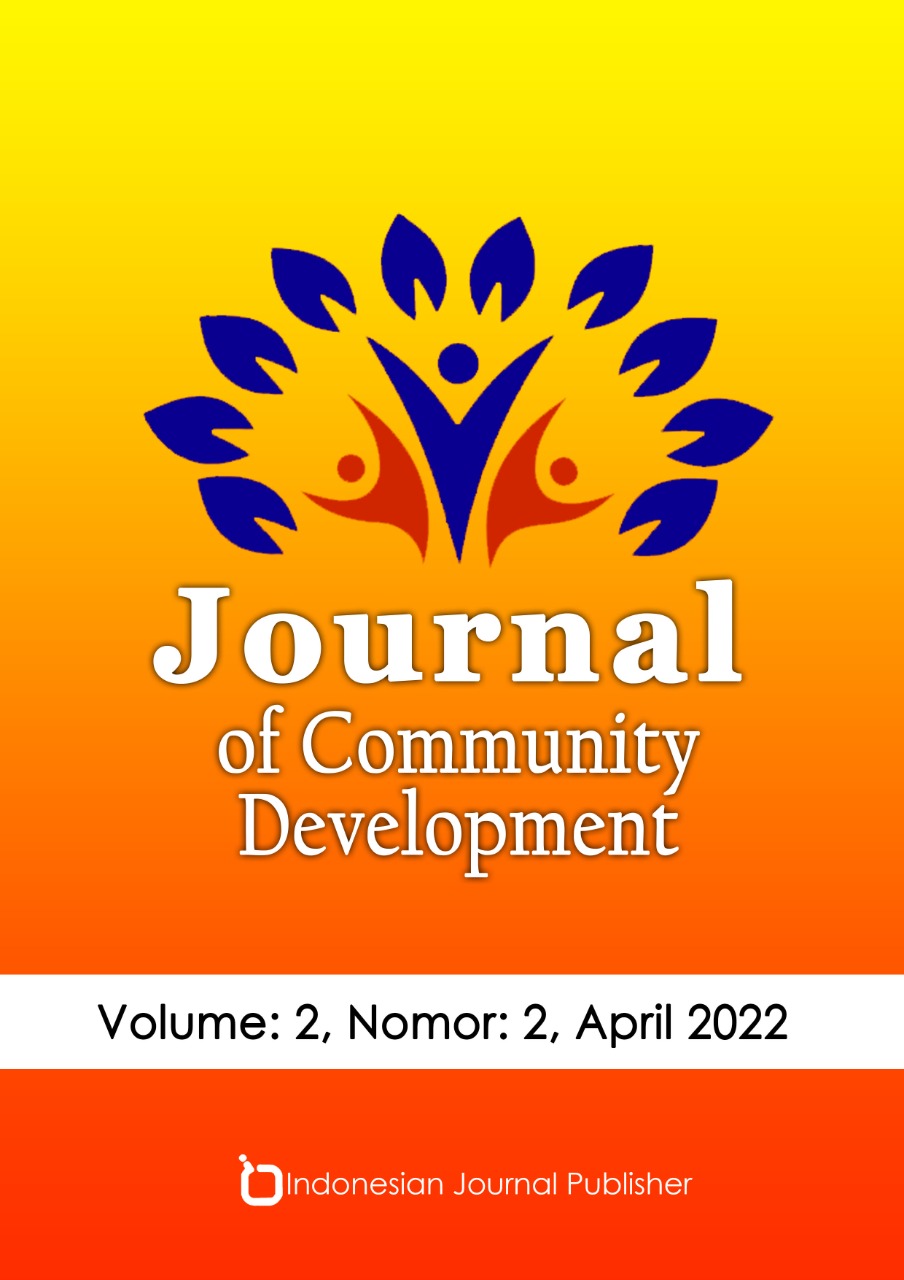 How to Cite
Arsa, I. G. N. W., Gautama, I. M. B., Parwita, I. M. M., Septian, P. R. T., & Saputra, I. M. A. B. (2021). Peningkatan Kualitas Desain Kemasan dan Pengelolaan Data Usaha Pada Industri Rumah Tangga Kenko. Journal of Community Development, 2(2), 70-75. https://doi.org/10.47134/comdev.v2i2.18
Copyright (c) 2021 I Gusti Ngurah Wikranta Arsa, I Made Bhaskara Gautama, I Made Mika Parwita, Putu Ricky Teddy Septian, I Made Arya Budhi Saputra
This work is licensed under a Creative Commons Attribution 4.0 International License.