Pengembangan Ekonomi Kreatif Berbasis Bahasa dan Sastra Indonesia Melalui Produk Sablon Berdesain Olah Kata Bermuatan Kearifan Lokal Jember
Ari Sita Nastiti

Universitas Muhammadiyah Jember

Dina Merdeka Citraningrum

Universitas Muhammadiyah Jember
Keywords:
Indonesian Language, Creative Economy, Literature, Local Wisdom, Screen Printing
Abstract
Screen printing business is one of the businesses that can apply the creative economy based on Indonesian language and literature. Screen printing products with unique word processing designs have the potential to attract consumer interest and can be used as a means to socialize the values ​​of language and literature in them. Especially by adding designs containing local wisdom to the screen printing products. The purpose of this service activity is to help one of the screen printing SMEs (Partners) overcome obstacles in their business. The implementation method used is the lecture method with a participatory learning approach. This activity begins with providing an understanding to Partners about the creative industry based on Indonesian Language and Literature. Followed by discussions with partners to develop a screen printing product with a word processing design that emphasizes Jember local wisdom along with an effective marketing strategy through online media. In addition, it also introduces PSAK EMKM as a guide for Partners in preparing their business financial reports.
Downloads
Download data is not yet available.
References
Hilaliyah, Hilda dan Anam, A.Khoiril. 2017. Alternatif Industri Kreatif berbasis Bahasa dan Sastra Indonesia. Prosiding Diskusi Panel Nasional Pendidikan Kewirausahaan. LPPM Universitas Indraprasta PGRI Jakarta.
Maulidah, DR. 2017. Industri Kreatif Berbasis Bahasa dan Seni: dari Penciptaan hingga Penerbitan Digital. https://www.kompasiana.com/drmaulidah/58b5ac7d4c7
a617d0a01d422/industri-kreatif-berbasis-bahasa-dan-seni-dari-penciptaan-hingga-penerbitan-digital# [Diakses pada Tanggal 14 November 2020]
Ramadhan, Fajar. 2019. Ekonomi Kreatif, Akselerator Pertumbuhan Ekonomi Indonesia. https://www.kompasiana.com/kanopi_febui/5d84bdc4097f36719 d644bf4/ekonomi-kreatif-akselerator-pertumbuhan-ekonomi-indonesia?page=all#. [Diakses pada Tanggal 14 November 2020]
Sugono, Dendy. 2012. Pengembangan Industri Kreatif Daya Dukung Bahasa. Seminar Pengembang Industri Kreatif Berbasis Media, Teknologi dan Iptek, Yogyakarta.
Undang-undang Nomor 24 Tahun 2019 tentang Ekonomi Kreatif.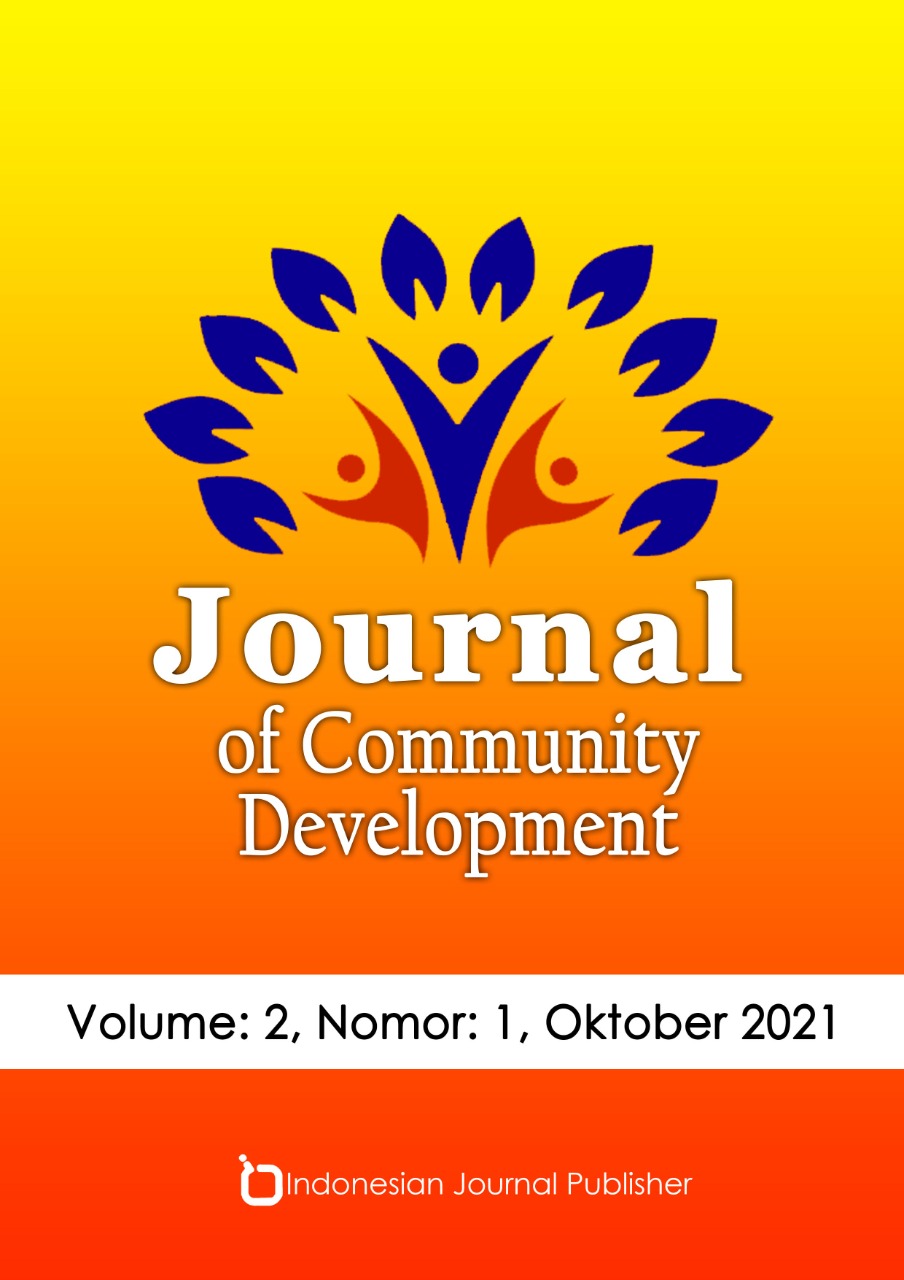 How to Cite
Nastiti, A. S., & Citraningrum, D. M. (2021). Pengembangan Ekonomi Kreatif Berbasis Bahasa dan Sastra Indonesia Melalui Produk Sablon Berdesain Olah Kata Bermuatan Kearifan Lokal Jember. Journal of Community Development, 2(1), 10-14. https://doi.org/10.47134/comdev.v2i1.32
Section
Seminars and Conferences
This work is licensed under a Creative Commons Attribution 4.0 International License.