Pelatihan Pembuatan Lilin Aromaterapi Berbahan Baku Kopi Pada Ibu PKK di Dusun Krajan, Patrang
Dian Galuh Pratita

Politeknik Negeri Jember

Erna Selviyanti

Politeknik Negeri Jember

Sabran Sabran

Politeknik Negeri Jember
Keywords:
coffee, candle, aromatherapy, PKK
Abstract
In addition, the culture of using coffee as a drink has existed since ancient times and is carried out both at the household and community level. The benefits of coffee are increasingly being noticed during this pandemic, along with the many diversification of coffee products, this service is carried out by making aromatherapy candles with waste coffee raw materials in the form of ground coffee as the main ingredient. Imperfectly broken coffee which does not pass the market is generally marketed at a low selling price at the household level. Therefore this service is carried out for PKK women as an effort to improve coffee processing skills into other products. The service will be held in August 2021 using direct practice methods and offline presentation of material with representatives from PKK Dusun Krajan, Patrang District. Based on the results obtained that there is a change in both the knowledge and skills of the participants. Prior to participating in the training, the participants did not know the benefits of coffee and other preparations besides coffee drinks, but after participating in the training, the participants became more aware of the benefits and variety of preparations made from coffee, especially aromatherapy candles made from coffee. In addition, on the skill side, it also increased, where before the training the participants did not have the skills to process aromatherapy candles, after the training the participants became confident to make aromatherapy candles independently.
Downloads
Download data is not yet available.
References
Mahriani, Wathon, S. and Utami, E. T. (2020) 'Diversifikasi Produk Olahan Limbah Biji Kopi Robusta (Coffea canephora) Menjadi Pengharum Ruangan Aroma Terapi', Warta Pengabdian, 14(2), pp. 141–152. doi: 10.19184/wrtp.v14i2.17121.
Minah, F. N. et al. (2017) 'Pembuatan Lilin Aroma Terapi Berbasis Bahan Alami', Industri Inovatif Jurnal Teknik Industri, 7(1), pp. 29–34.
Mukhsin, R., Mappigau, P. and Tenriawaru, A. N. (2017) 'Pengaruh Orientasi Kewirausahaan Terhadap Daya Tahan Hidup Usaha Mikro Kecil dan Menengah Pengolahan Hasil Perikanan di Kota Makassar', Jurnal Analisis, 6(2), pp. 188–193. Available at: http://pasca.unhas.ac.id/jurnal/files/ef79bd330d16ba9fda32510e0a581953.pdf.
Tania, R., Widjaya, S. and Suryani, A. (2019) 'Usahatani, Pendapatan dan Kesejahteraan Kopi di Lampung Barat', JIIA, 7(2), pp. 149–156.
Yoshiko, C. and Purwoko, Y. (2016) 'Pengaruh Aromaterapi Rosemary Terhadap Atensi', Diponegoro Medical Journal (Jurnal Kedokteran Diponegoro), 5(4), pp. 619–630.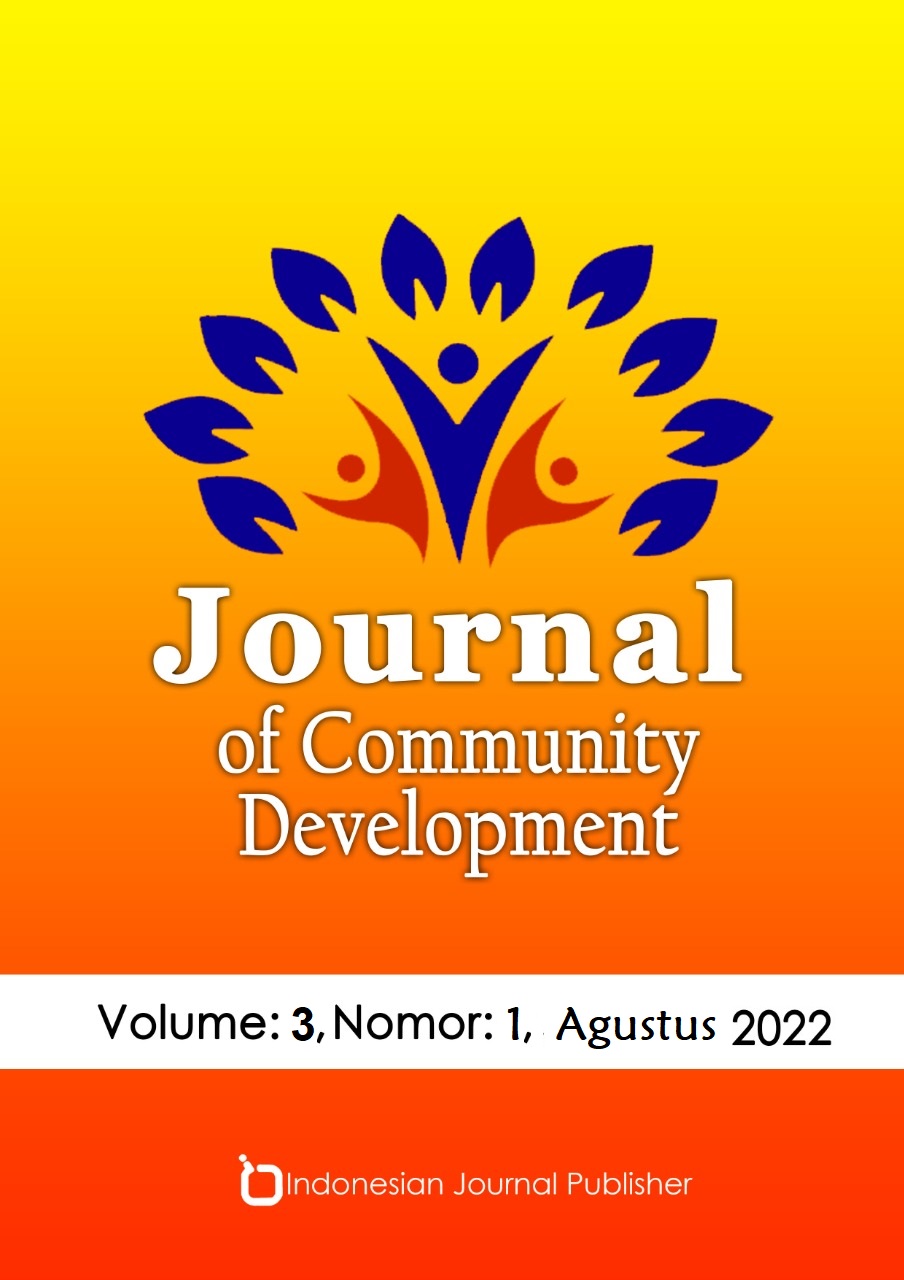 How to Cite
Pratita, D. G., Selviyanti, E., & Sabran, S. (2022). Pelatihan Pembuatan Lilin Aromaterapi Berbahan Baku Kopi Pada Ibu PKK di Dusun Krajan, Patrang. Journal of Community Development, 3(1), 1-7. https://doi.org/10.47134/comdev.v3i1.57
Copyright (c) 2022 Dian Galuh Pratita, Erna Selviyanti, Sabran Sabran
This work is licensed under a Creative Commons Attribution 4.0 International License.