Pemanfaatan Power Sprayer Guna Mengendalikan Hama Kopi di Desa Klungkung Jember


Abdul Madjid(1*), Abdurrahman Salim(2), Anni Nur Aisyah(3), Zilvanhisna Emka Fitri(4),


(1)&nbspPoliteknik Negeri Jember
(2)&nbspPoliteknik Negeri Jember
(3)&nbspPoliteknik Negeri Jember
(4)&nbspPoliteknik Negeri jember
(*) Corresponding Author
Keywords:
coffee, pest, power sprayer
Abstract
Coffee is one of the plantation commodities that are in great demand in Indonesia. Coffee production in East Java is the largest in Indonesia, one of the coffee-producing areas in East Java, namely Jember Regency. Some of the factors causing it, one of them from cultivation techniques and inadequate care and maintenance. In particular, many coffee pests are not handled properly. In addition, there is a factor in the level of technology absorption and the application of farm management as well as a less efficient and effective marketing system which has an impact on the income level of farmers. Therefore, it is necessary to innovate cultivation techniques and maintain coffee plants in order to maintain optimal coffee growth and produce better fruit, so as to increase farmers' income. The microcontroller-based sprayer battery is an innovative sprayer to increase coffee production in Klungkung village. The stages of this service activity start from the stage of preparation and coordination with partners, digging information (literature studies) in compiling counseling and training materials from controlling plant pest organisms, especially coffee from spraying techniques according to SOPs, coffee production management, to the coffee marketing system. The results of this dedication is the farmer of Klungkung village get benefits in good coffee cultivation techniques and in spraying pests using Power Sprayer technology.
Downloads
Download data is not yet available.
References
Alfarisi, I. et al. (2021) Hilirisasi Industri Kopi Berorientasi Pasar Cafe kepada Masyarakat Petani Kopi di Dusun Tuo Limbur Kabupaten Bungo, Jurnal Komunitas : Jurnal Pengabdian kepada Masyarakat. Available at: http://ojs.stiami.ac.id.
Arfid Guampe, F. and Hengkeng, J. (2019) ANALISIS PENDAPATAN PETANI KOPI (STUDI PADA PETANI KOPI DI DESA TOINASA KECAMATAN PAMONA BARAT KABUPATEN POSO), Economix. Available at: https://ojs.unm.ac.id/economix/article/view/10309 (Accessed: 16 April 2021).
Chandra, D., Ismono, R. H. dan and Kasymir, E. (2013) 'Prospek Perdagangan Kopi Robusta Indonesia di Pasar Internasional', JIIA Jurnal Ilmu Ilmu Agribisnis, 1(1), pp. 10–15.
Hariance, R. et al. (2016) 'STRATEGI PENGEMBANGAN AGRIBISNIS KOPI ROBUSTA DI KABUPATEN SOLOK Development Strategy of Robusta Coffee Agribusiness in District of Solok', Jurnal AGRISEP Kajian Masalah Sosial Ekonomi Pertanian dan Agribisnis, 15(1), pp. 111–126. Available at: https://ejournal.unib.ac.id/index.php/agrisep/article/view/918
Jamil, A. S. (2019) 'Daya Saing Perdagangan Kopi Indonesia di Pasar Global', Agriekonomika, 8(1), p. 26. doi: 10.21107/agriekonomika.v8i1.4924.
Jember, B. (2020) 'KABUPATEN JEMBER DALAM ANGKA 2020', in Badan Pusat Statistik Kabupaten Jember. Jember.
Krishnan, S. and Krishnan, S. (2017) 'Sustainable Coffee Production', in Oxford Research Encyclopedia of Environmental Science. Oxford University Press. doi: 10.1093/acrefore/9780199389414.013.224.
Kustiari, R. (2016) 'Perkembangan Pasar Kopi Dunia dan Implikasinya bagi Indonesia', Forum penelitian Agro Ekonomi, 25(1), p. 43. doi: 10.21082/fae.v25n1.2007.43-55.
Nafis, B. and Juliansyah, H. (2019) EFISIENSI PRODUKSI KOPI ARABIKA PADA PT. ORO KOPI GAYO KOTA TAKENGON, Jurnal Ekonomi Pertanian Unimal. doi: 10.29103/JEPU.V2I1.1732.
Oktaviana, N., Masyhuri, M. and Hartono, S. (2017) 'Competitiveness of Tea Exports in Asean: A Constant Market Share Analysis', Ilmu Pertanian (Agricultural Science), 1(2), p. 088. doi: 10.22146/ipas.10662.
Wardati, I. et al. (2019) 'Perbanyakan Agens Hayati Cendawan Beauveria Bassiana Sebagai Pengendali Hama Penggerek Buah Kopi (PBKo) Di Desa Durjo Karangpring Kecamatan Sukorambi Kabupaten Jember', Prosiding, pp. 978–602. Available at: https://publikasi.polije.ac.id/index.php/prosiding/article/view/1710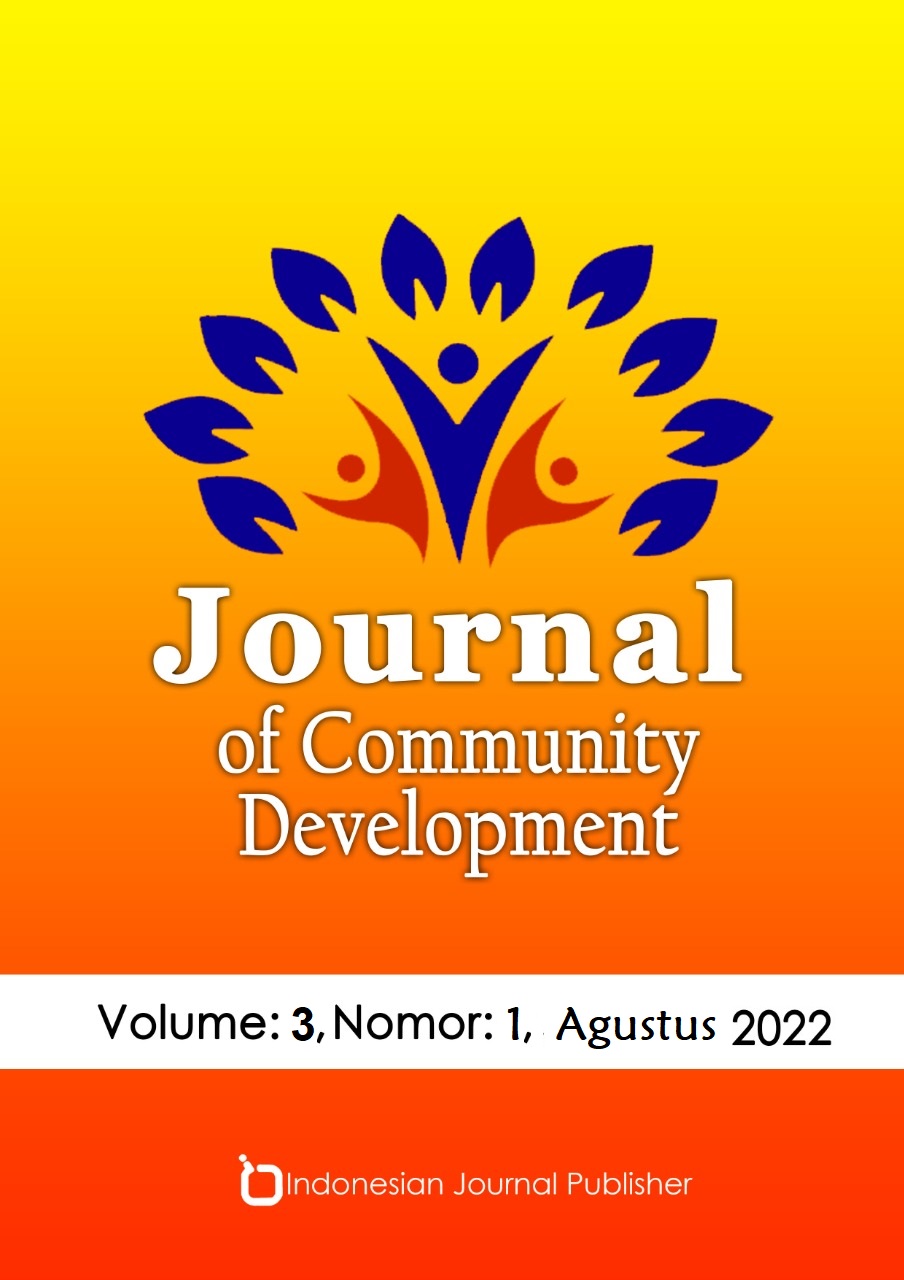 Downloads
How to Cite
Madjid, A., Salim, A., Aisyah, A. N., & Fitri, Z. E. (2022). Pemanfaatan Power Sprayer Guna Mengendalikan Hama Kopi di Desa Klungkung Jember. Journal of Community Development, 3(1), 72–79. https://doi.org/10.47134/comdev.v3i1.70