Pendampingan Akuntansi dan Pajak Usaha Mikro, Kecil, dan Menengah (UMKM) di Gapoktan Lestari
Avisenna Harkat

Politeknik Negeri Jember

Arisona Ahmad

Politeknik Negeri Jember

Oryza Ardhiarisca

Politeknik Negeri Jember

Dessy Putri Andini

Politeknik Negeri Jember

Rahma Rina Wijayanti

Politeknik Negeri Jember
Keywords:
Assistence in Accounting, taxes, Gapoktan Lestari
Abstract
This community service activity aims to assist farmer groups who are members of the Lestari Gapoktan in preparing financial information. Knowledge and skills in compiling financial information require an understanding of accounting. The resulting output target is the acquisition of accounting knowledge and skills to collect financial information, both manually and computerized. The next target is the use of financial information to calculate MSME taxes by PP RI No.23 of 2018 and the interests of applying for credit to financial institutions, photos of activities, one article in electronic mass media. The implementation method of this service is carried out by capturing the needs of Gapoktan Lestari as MSMEs in terms of financial administration in the form of discussion and question and answer activities. Furthermore, following up the conditions obtained by carrying out accounting bookkeeping assistance in training. The results of this service activity are the delivery of accounting knowledge; simple bookkeeping excels soft program files, publications in mass media, and activity photo files.
Downloads
Download data is not yet available.
References
Andriani, L., Atmadja, A. T., SE, A., & SINARWATI, N. I. K. (2014). Analisis Penerapan Pencatatan Keuangan Berbasis Sak Etap Pada Usaha Mikro Kecil Menengah (Umkm)(Sebuah Studi Interpretatif Pada Peggy Salon). JIMAT (Jurnal Ilmiah Mahasiswa Akuntansi) Undiksha, 2(1).
Peraturan Pemerintah Republik Indonesia No. 23, (2018).
Kurniawati, D., Ahmad, A., Wardhani, D. K., & Lestari, D. (2021). Pendampingan Manajemen dan Akuntansi Masjid di Masjid Al-Ihsan Kelurahan Tegal Gede Kabupaten Jember. J-Dinamika: Jurnal Pengabdian Masyarakat, 6(2), 244–248.
Kurniawati, E. P., Nugroho, P. I., & Arifin, C. (2012). Penerapan Akuntansi pada Usaha Mikro Kecil dan Menengah (UMKM). Jurnal Manajemen Dan Keuangan, 10(2).
Kusnindar, A. A. (2019). Pelatihan Dan Pendampingan Akuntansi Berbasis Komputer Pada Umkm Kabupaten Pringsewu, Lampung. Jurnal Pengabdian Masyarakat Bumi Raflesia, Vol 2, No 1 (2019): Jurnal Pengabdian Masyarakat Bumi Raflesia. http://jurnal.umb.ac.id/index.php/pengabdianbumir/article/view/289/pdf
Lestiawan, H., & Mahmud, M. (2005). Purwarupa Pembelajaran Mandiri Sistem Aplikasi Akuntansi UMKM Berbasis Web Dalam Pemberdayaan USAha Masyarakat Jawa Tengah. Seminar Nasional Teknologi Dan Informatika 2014.
Rudiantoro, R., & Siregar, S. V. (2012). Kualitas laporan keuangan umkm serta prospek implementasi SAK ETAP. Jurnal Akuntansi Dan Keuangan Indonesia, 9(1), 1–21.
Triyani, Y., Suhartono, S., Siagian, D., & Harjati, L. (2021). Program Pendampingan, Pelatihan Akuntansi Sederhana Secara Manual Dan Terkomputerisasi Bagi Usaha Kecil Mikro Dan Menengah (Umkm) Anggota Koperasi Garudayaksa Di Jakarta Selatan. J-Abdi: Jurnal Pengabdian Kepada Masyarakat, 1(4), 441–448.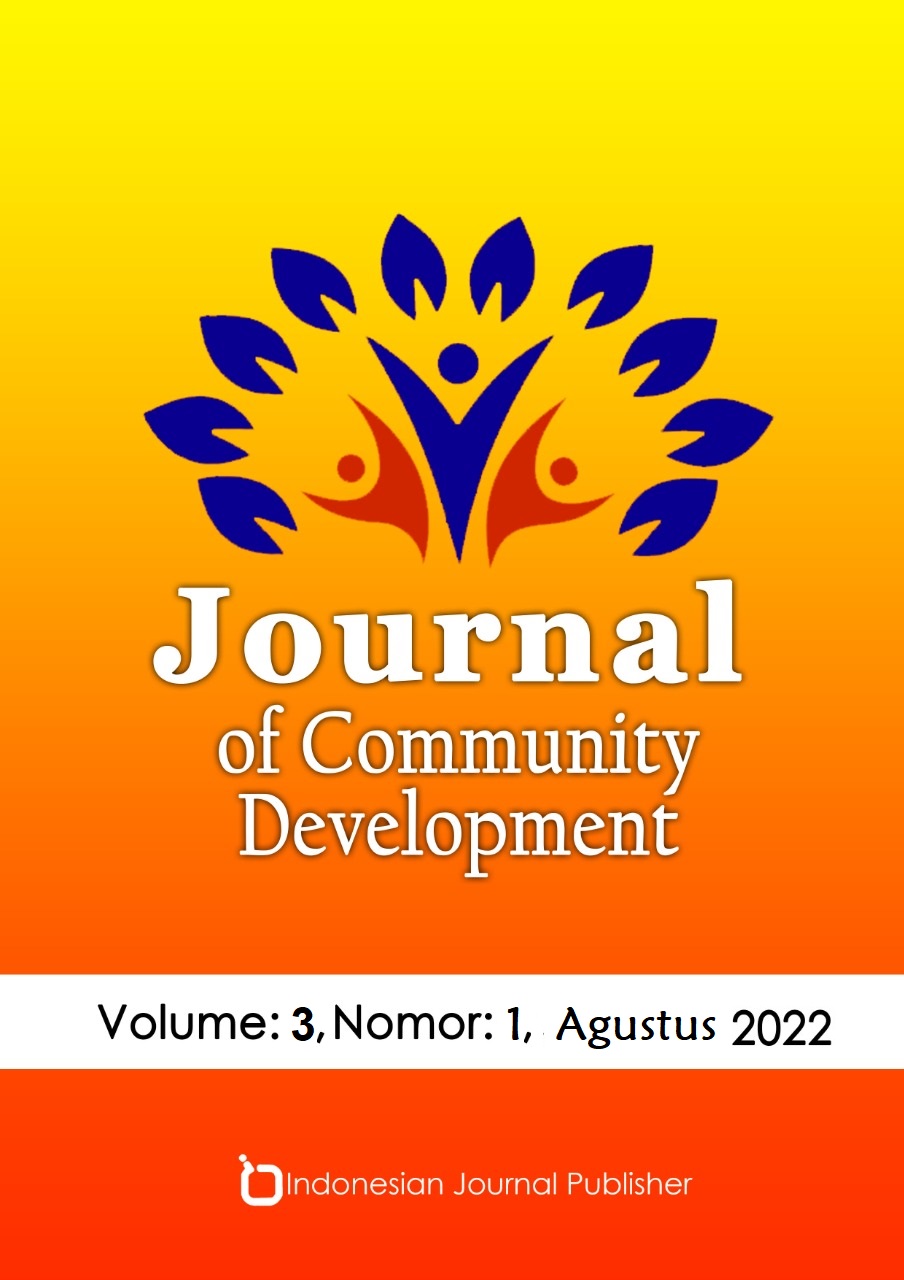 How to Cite
Harkat, A., Ahmad, A., Ardhiarisca, O., Andini, D. P., & Wijayanti, R. R. (2022). Pendampingan Akuntansi dan Pajak Usaha Mikro, Kecil, dan Menengah (UMKM) di Gapoktan Lestari. Journal of Community Development, 3(1), 51-57. https://doi.org/10.47134/comdev.v3i1.64
Copyright (c) 2022 Avisenna Harkat, Arisona Ahmad, Oryza Ardhiarisca, Dessy Putri Andini, Rahma Rina Wijayanti
This work is licensed under a Creative Commons Attribution 4.0 International License.