Implementasi Rotary Dryer dan Website Guna Meningkatan Pendapatan pada Kelompok Tani Kopi Sumber Kembang
Siti Aminah

Universitas Jember

Nur Faizin

Politeknik Negeri Jember

Agus Mahardiyanto

Universitas Jember
Keywords:
Rotary dryer, website, Sumber Kembang
Abstract
The coffee production process carried out by the Sumber Kembang Farmers Group includes seeding to marketing products in the form of ready-to-eat ground coffee. Although this group of coffee farmers is considered to be quite good, there are still some weaknesses, namely the process of drying coffee beans is still done manually, namely drying in the sun. The manual drying process is highly dependent on land area, weather, and labor. Meanwhile, the coffee beans that have been harvested must be dried as soon as possible to maintain the quality of the coffee beans. In addition, farmer groups have not utilized information technology optimally. Therefore, this service activity was carried out with the aim of increasing the productivity of coffee farming through the design and training of Rotary Dryer and increasing sales of coffee products by expanding the reach of marketing through website creation. The implementation of socialization and training was aimed at members of the Sumber Kembang coffee farmer group located in Karangpring Village, Sukorambi District, Jember Regency. After further training, namely monitoring the results of service activities, this activity needs to be carried out to ensure that the application of technology is actually implemented by the Sumber Kembang farmer group. The method of activity applied in implementing this partnership program is the method of explaining the material about the application and benefits of rotary dryer using a power point, providing tools in the form of rotary dryer, and website training, after which monitoring is carried out. After the service activities have been carried out, farmers are able to operate rotary dryer and can increase market share thereby increasing consumer demand for coffee products from the Sumber Kembang farmer group. This is indicated by data on the increase in consumer demand for coffee products, which is above 25% for each type of product.
Downloads
Download data is not yet available.
References
AEKI. (n.d.). Industri Kopi Indonesia. http://www.aeki-aice.org/coffee_industry.html. Diakses pada 09 Juni 2022.
Agustian, R. (2021) 'PERANCANGAN APLIKASI E-MARKETING MENGGUNAKAN RESPONSIVE WEB DESIGN', jim.teknokrat.ac.id, 2(3), pp. 361–367.
Alhabsyi, M.F., Lengkey, L.C.C.E. and Ludong, M.M. (2021) 'Perbandingan Mutu Biji Kopi Robusta (coffea canephora) Hasil Pengeringan Secara Pengasapan dan Penjemuran Di Perkebunan Kopi Desa Purworejo Kabupaten Bolaang Mongondow Timur', Cocos, 4(4), pp. 1–10.
Amin, S. et al. (2018) 'Laju pindah panas dan massa pada proses pengeringan gabah menggunakan alat pengering tipe bak (batch dryer)', eprints.unm.ac.id, 4, pp. 87–104.
Karina, A. et al. (2012) 'Pengaruh Macam dan Kadar Kitosan Terhadap Umur Simpan dan Mutu Buah Stroberi (Fragraria x ananassa Duch.)', journal.ugm.ac.id [Preprint].
Maymunah (2017) 'PERANCANGAN WEBSITE E-ECOMMERCE PENJUALAN KRIPIK PISANG PADA WIRA USAHA MANDIRI PARDASUKA', ojs.stmikpringsewu.ac.id [Preprint].
Novita, E. et al. (2010) 'Peningkatan Mutu Biji Kopi Rakyat Dengan Pengolah Semi Basah Berbasis Produksi Bersih', Jurnal Agrotek, 4(1), pp. 76–90.
Otampi, R. et al. (2017) 'Pengaruh harga pakan dan upah tenaga kerja terhadap usaha ternak sapi potong petani peternak di desa Wineru kecamatan Likupang Timur kabupaten Minahasa', ejournal.unsrat.ac.id, 37(2), pp. 483–495.
Paramita, V. (2017) 'Pengaruh suhu terhadap kadar air dan aktivitas air dalam bahan pada kunyit (Curcuma longa) dengan alat pengering electrical oven'.
Santoso, D. et al. (2018) 'Pengaruh Metode Pengeringan Terhadap Karakteristik dan Sifat Organoleptik Biji Kopi Arabika (Coffeae Arabica) Dan Biji Kopi Robusta (Coffeae Cannephora)', Rona Teknik Pertanian, 11(2), pp. 50–56. doi:10.17969/RTP.V11I2.11726.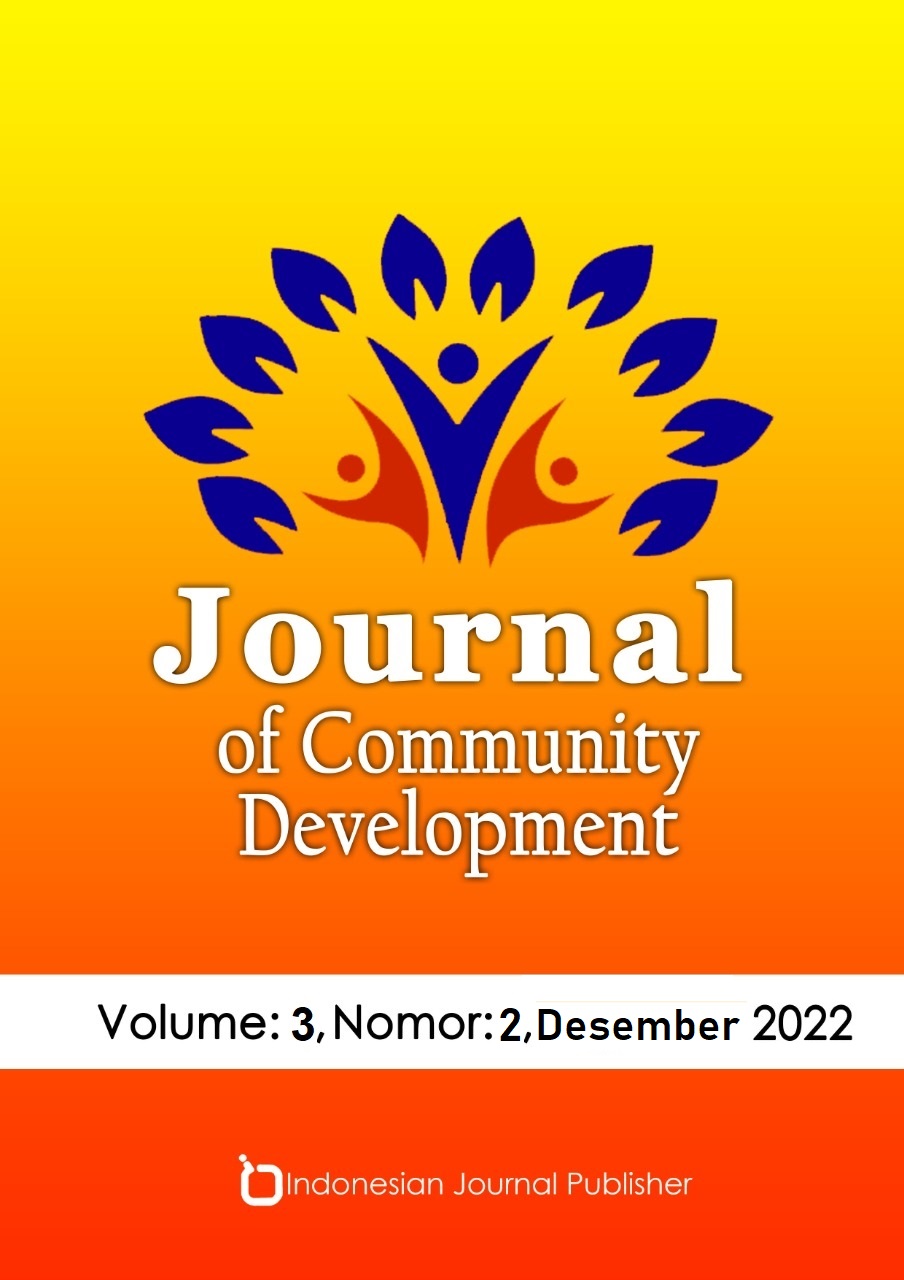 How to Cite
Aminah, S., Faizin, N., & Mahardiyanto, A. (2022). Implementasi Rotary Dryer dan Website Guna Meningkatan Pendapatan pada Kelompok Tani Kopi Sumber Kembang. Journal of Community Development, 3(2), 97-105. https://doi.org/10.47134/comdev.v3i2.74
Copyright (c) 2022 Siti Aminah, Nur Faizin, Agus Mahardiyanto
This work is licensed under a Creative Commons Attribution 4.0 International License.